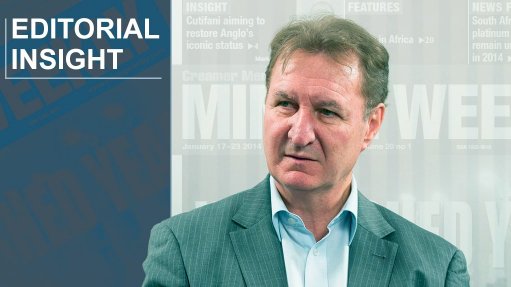 The word 'digitisation' is on the lips of many at conferences and universities these days, with many outlining the notion of total connectivity bringing significant productivity gains.
Step one is said to be vertically integrating the supply chain from the mine stope to the boardroom and step two the digitisation of mined products using technologies that have already become mainstream.
Envisaged is that digital change will be supported by the interaction of people, process and technology – and definitely not just technology alone.
The digitisation envisaged by speakers at last week's lecture at the Gordon Institute of Business Science (GIBS) resonated well with that of speakers at last year's Mining for the Future conference of the Southern African Institute of Mining and Metallurgy (SAIMM).
Talk at GIBS highlighted the strong commitment of major companies like GE, of the US, and Transnet, of South Africa, to digital trans- formation as a means of driving growth on the African continent.
Re-echoed were the comments made at last year's Mining for the Future that a collection of proven technologies are taking industry – and also mining – into the digital 4.0, the name given to the current trend of automation and data exchange in manufacturing technologies, which includes cyber-physical systems, the Internet of Things and cloud computing.
What is being done with technology, and not technology itself, seems to be the essence of 4.0, with the ability to analyse and use the data being core.
As was outlined at GIBS, GE is continuing to invest heavily in power turbines and big data to improve operating efficiencies at operational level and engineering schools like the School of Mining Engineering at the University of the Witwatersrand are continuing to lecture on information technologies leading to improved mine economics at academic level.
The digital revolution is happening, which is why Wits School of Mining Engineering has seen fit to establish a digital mine, which emphasises that digitisation is fundamental for efficient and safe mining where all systems are optimised.
As last year's Mining for the Future pointed out, a software is available that allows for anything envisaged for use in mining to be proven digitally before being physically applied in a mining context and before any equipment is bought.
It is envisaged that all process development will be done on a computer and only once there is security of accuracy will actual production begin.
"We could potentially leapfrog mining into a next-generation digital industry. I believe we could even leapfrog other industries," was NxGN CEO Gary Lane's comment to Mining Weekly on the sidelines of the SAIMM seminar.
In addition to mining itself, supplies essential to mining are also being digitised, including the supply of electricity and transport, with the uptime and efficiency of South Africa's existing power stations, railways and ports targeted for substantial improvement through the integration of new digital software solutions and data analytics.