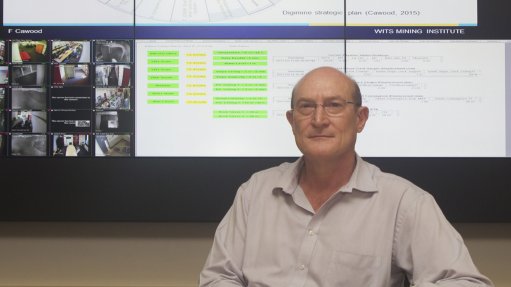 FRED CAWOOD Deeper mining will remain on hold until government can provide an effective national support system for mines
Photo by: Duane Daws
The University of the Witwatersrand (Wits), in Johannesburg, will test its latest developments in digitalised mining technology in underground mining conditions in the next two months at the Sterkfontein caves, a World Heritage Site in Muldersdrift, near Krugersdorp.
The real-time safety technology, developed at Wits' Mining Institute with vendor partner input, will be trialled at the Sterkfontein caves to develop mining applications further and motivate government to invest in research and development (R&D) initiatives to advance mining technologies.
Mining Institute director Professor Fred Cawood tells Mining Weekly that the institute sees this as the next step in driving the adoption of digitalised mining technology by South African mining operations.
He says the initial capital investment in digital mining technology is higher than that of conventional mining solutions, but, ultimately, operational costs will be lower, health and safety risks will be reduced and there is a definite possibility of facilitating deeper mining.
"However, deeper mining will remain on hold until government can provide an effective national support system for mines. A good start is the Mining Phakisa process, where the Council for Scientific and Industrial Research is taking a leading role in an accelerated initiative aimed at prioritising the integration of solutions among research facilities, mines and government to support and improve mining methods and develop technologies collaboratively and continuously," explains Cawood.
The research conducted at the Mining Institute is based on information generated by a smart mock mine with simulated mining conditions, which is digitally connected to an intelligent weather station, a visual system and a seismometer installed on the roof of the institute's Chamber of Mines building at Wits, as well as communicative sensors rigged on some floors to generate data on simulated underground mining conditions.
"The natural conditions at the Sterkfontein limestone caves, owned by Wits, are not as predictable as the mock mine," says Cawood. The caves are not an easily controllable environment and he believes that this will challenge the institute's technology, allowing for improvements and further innovations to ensure that it will be efficiently applied when used at underground mines in the future.
Since the Sterkfontein caves had a rock fall in 2012, Wits scientists have been seeking a solution to improve safety. "Therefore, besides testing our technology, we can install sensors to monitor the air quality and warn of any risks posed while visitors or archaeologists are moving about the caves."
After his term as Mining Engineering School head and since his appointment as director of the Wits Mining Institute in June 2016, Cawood has developed and implemented a sustainable business plan allowing for marketing of the technology, using real-time information and improvements on the technology gathered from the mock mine. These lessons will be applied to the Sterkfontein caves through the installation of a system that is suitable for underground mines.
"After Sterkfontein, we aim to install and test the technology at one of gold miner Sibanye Gold's operations," he says, adding that Sibanye Gold is a major financial supporter of the institute.
The Mining Institute also plans to present courses on how to install, operate and maintain digital mining technology systems. "There is a need to upskill artisans and technicians for a twenty-first-century mining industry," Cawood notes.
A specific skills set is required to install, maintain and operate the digital mining technology from control rooms. "When we started developing the technology, most aspects, such as programming, data integration and database building, were outside our existing skills set. Technology ran away, with skills left behind, which is causing a skills gap in this area. The result is that we are learning from mistakes, rather than our formal qualifications."
The Concept
Digital mining uses different technologies, such as sensors, "to be the eyes and the ears of the mine, and communication infrastructure to be the voice of the mine".
The information on natural conditions, such as climate and air quality, as well as safety risks, are automatically sent to a mine's control room, where information is integrated for interpretation by an operator.
Using this information, operators can decide and assess how mineworkers should proceed to achieve the best safety and efficiency outcomes.
"This technology is made possible by various sensors, forms of connectivity and software integration. Communication technologies allow for real-time information to be displayed through video footage or still images, regardless of how far the operator is from the source of information," Cawood notes.
He says the challenge faced in the uptake of digitalised mining is communication difficulties: underground mines have to use an antenna system, rather than satellite systems that are used for surface mines.
"Connectivity is a massive problem underground and this is the primary consideration during the designing process, as almost anything else can be fixed afterwards, but if the communication system is inadequate, the system can not operate reliably and continuously to [its] full functionality."
Digitalised mining technologies, therefore, allow for continuous feedback without delay or interruptions.
Unfortunately, in South Africa, there is a lot of tension among mining stakeholders, trade unions, government and mine owners, which results in delaying new technology acquisition and funding for R&D, but "I do believe that there is a realisation that meaningful research must be done, collectively, since government is most at risk if mines start to shut down", says Cawood, adding that the State owns the mineral resources and, therefore, has the most to lose if these resources are left unmined.
Meanwhile, mines that struggle to innovate using conventional technologies will be left behind, since competitor mines that use new technology are safer, more efficient and can deliver mineral and metal products at a lower cost to the markets, he concludes.