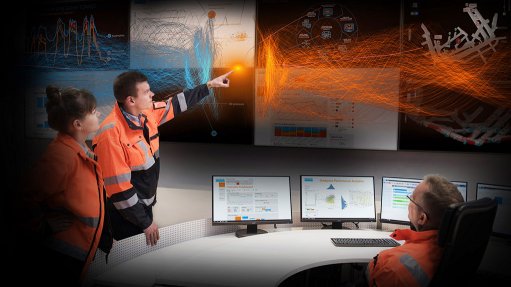 VERSATILE IMPROVEMENT Mining companies can reduce costs, increase productivity, improve safety and make smarter decisions using predictive insights
To deliver transparency and control to deep-level and other mining operations, global supplier of engineering and mining equipment Sandvik has developed the next generation of service offering Optimine, OptiMine Analytics, which can transform data into process improvements through predictive insights and actionable dashboards embedded into management systems, says Sandvik Mining and Rock Technology business unit automation VP Riku Pulli.
OptiMine Analytics is a new performance-enhancing data analytics solution, which enables mining companies to implement operational improvements in their mining process, providing easy-to-use real-time and automated dashboards with a comprehensive process overview to drive process improvements.
"Analysing the data from mine operations and embedding the created descriptive and predictive insights into process optimisation solutions transforms managing a mine into a fact-based, data-driven endeavour," Pulli explains.
He adds that this unlocks the full potential of production and reveals the bottlenecks currently hiding in the data. "Taking the discovered potential and applying it into action, together with our mining application experts, ensures that the opportunities are realised to improve and optimise mining processes and productivity."
Pulli says, during the development process, the company identified the value of the unique combination of engineering knowledge and Sandvik global fleet data to produce predictive models that are at least 40% more precise than models built without the assets.
How It Works
By drilling down into the 'overall equipment effectiveness', OptiMine Analytics intuitively pinpoints bottlenecks and areas for fleet and operation improvement in terms of mechanical availability, usage and the quality of production, Pulli highlights.
OptiMine Analytics draws and uses data from other OptiMine digital tools including monitoring, location tracking, scheduler and task management, as well as other mining and maintenance systems.
"OptiMine Analytics processes source data from many mining management systems and equipment, as well as from the global Sandvik connected equipment fleet. With the combined equipment and application data, OptiMine Analytics automatically analyses patterns in the information and enables development of mining process efficiency improvements," he adds.
Pulli further notes that Sandvik data scientists will assist mining customers to find critical points in their mining process and turn findings into actions.
The underlying technology platform is a result of a close technology partnership between Sandvik and technology company IBM. "IBM's world-leading analytics platform, together with predictive modelling skills, enables Sandvik to channel its vast mining and equipment operational expertise into a form which makes it easy and efficient for all OptiMine customers to access years of insight on mining optimisation and turn it into actionable process improvements."
The commercial agreements of OptiMine Analytics are already in place with diamond mining group Petra Diamonds' Finsch mine, in Kimberly, in the Northern Cape, and underground hard-rock mining contractor Barminco in Australia.
Petra Diamonds group technical service manager Alex Holder s
ays the major impact at Finsch mine has been to allow the company to track performance of machines and operators, track the completion of various tasks, minimise potential delays and then reassign resources during the shift.
"We now have the ability to change to Plan B on the fly. Predictive maintenance and other predictive algorithms will, in the future, reduce the need for implementing a Plan B."
Meanwhile, Barminco CEO Paul Muller notes that leveraging data is becoming increasingly valuable across the mining sector and, through analytics, machine learning and artificial intelligence, there are new possibilities for increased operational efficiency.
Pulli says OptiMine Analytics is an ideal analytics and process optimisation solution for mining companies that are looking for the most advanced and versatile suite of digital tools to improve the overall mining process. "With OptiMine Analytics you can reduce costs, increase productivity, improve safety and make smarter decisions using predictive insights now, as well as in the future," he concludes.