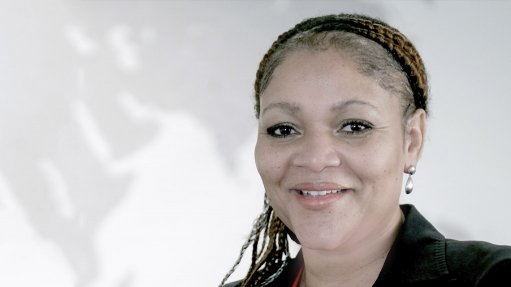 CANNINAH DLADLA-MAPENA Rockwell South Africa Managing Director
Digital transformation provides a major opportunity to address challenges in the mining industry, says industrial automation and digital transformation company Rockwell Automation, which has developed the Connected Mine solution, which aims to converge plant-level and enterprise networks, and securely connect people, processes and technologies.
Across the globe, Rockwell Automation is assisting companies to harness the power of connectivity to use the vast amount of data that exists in mining automation systems, says Rockwell South Africa MD Canninah Dladla-Mapena. In South Africa, the company has been successful in using this service to assist mining companies in the coal, platinum and iron-ore sectors.
Integrating artificial intelligence into mining processes and systems is becoming increasingly more beneficial by controlling variables of process efficiencies, keeping equipment operating properly, effectively using water and energy, and ensuring workers' safety.
"Controlling these variables is crucial to remaining profitable, and each one can be devastating to a mining company if a misstep occurs," she adds.
The Connected Mine solution allows for integrated systems and scalable analytics that create mine-to-market visibility. It has functionalities for mining operations that can help companies to get the most out of their process and equipment to improve overall productivity.
Mining is driven by steady global economic growth and an increasing demand for materials to support new technologies such as electric vehicles, renewable energy and mobile devices, explains Dladla-Mapena. "Yet, the industry still faces major operational challenges, including process efficiencies, cost control, worker safety, and skills gaps."
The concept of the Connected Mine solution was devised to address these challenges.
The solution automates, controls and optimises mineral processes, helps to achieve greater throughput, and better quality while reducing energy, water and reagents.
"
However, while technology is undoubtably a key enabler towards a successful business, the human connection brings technology to life and unlocks creativity and innovation, which spurs youth employment and entrepreneurs."
Dladla-Mapena says optimising operations and assets are critical in bridging the skills gaps. In terms of increasing automation and employment while reducing gender discrepancies in mining, she asserts that "addressing the changing workforce demographics is key".
S
he elaborates that, although there is an increased presence of women compared with ten years ago in technical spaces, there still are not enough women running their own businesses, particularly in the automation field. This gap needs to be filled to drive entrepreneurship opportunities that can help grow the economy.