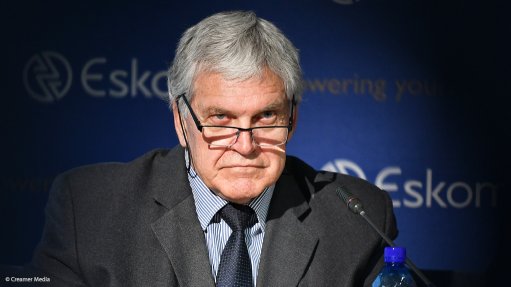 Eskom COO Jan Oberholzer
Photo by: Creamer Media's Donna Slater
Eskom has again issued a warning over the supply and pricing of diesel, which it has been consuming at extreme levels in recent days to cover for its underperforming coal fleet, the energy availability factor (EAF) of which has now slumped to below 60%.
The State-owned utility deployed its open cycle gas turbine (OCGT) plants well beyond the peak periods for which they are designed on Monday and Tuesday, partly to replenish the upper dams at its pumped-storage schemes.
The OCGT plants were switched off only after midnight on Wednesday and resumed output again three hours later, largely because the coal EAF had fallen to about 58% and there were 16 coal units currently "at risk" of breaking down.
Early on Wednesday morning, Eskom decided to intensify load-shedding to Stage 4, or 4 000 MW of simultaneous cuts, as well as to extend its duration, largely to preserve diesel reserves in a context of persistent breakdowns of more than 15 000 MW and planned maintenance of about 5 500 MW.
COO Jan Oberholzer reported that Eskom had been consuming nine-million litres of diesel a day at its Ankerlig plant, which has nine units, and Gourikwa, which has five units.
It was also buying electricity from the two private OCGT facilities, Avon and Dedisa, which meant that, for extended period on Monday and Tuesday, Eskom has been relying on the full 20-unit OCGT fleet, which has a collective capacity of 3 000 MW.
At Ankerlig, diesel supply was being met through 100 road-tankers, which could supply four-million litres daily, while the Gourikwa plant was being supplied by pipeline by PetroSA.
"Should we run out of diesel at these power stations, this capacity would not be available to the supply the demand, which would necessitate a further three stages of load-shedding [in addition to whatever stage was being implemented at the time]," Oberholzer explained, adding that any depletion of its 2 700 MW of pumped storage reserves, would represent a similar load-shedding risk.
"The combined effect would be a further six stages of load-shedding.
"So, it is critically important to balance these emergency resources to ensure we manage the power systems safely, while keeping the stage of load-shedding as low as possible."
DIESEL TRADE-OFFS
Eskom insisted that it would continue, when adequate diesel reserves were available, to deploy the OCGT plants in preference to load-shedding, despite the "financial bloody nose" that implied. However, it again underlined its liquidity constraints, particularly in light of the surging price of diesel in response to the Ukraine conflict.
Eskom's OCGT units consumed 14 litres a second when operating and, at current prices, it was costing R700 000 to produce a unit of electricity for an hour.
CFO Calib Cassim reiterated that Eskom was likely to spent about R6-billion on diesel for the year to March 31, 2022, having been allocated R1-billion in the regulated tariff.
Prior to Russia's invasion of Ukraine, the utility was assuming that it would spend a similar amount on diesel in 2022/23 against an allocation in the tariff of about R3-billion.
"At the end of the day, it gets to a point that we only have so much liquidity to meet all our other operating, as well as debt-service, commitments.
"So, there will have to be trade-offs," Cassim said.
GAS CONVERSION AMBITIONS
Oberholzer also described Eskom's current diesel burn as "unsustainable" and confirmed that the utility would be seeking to introduce gas at the OCGT facilities, as well as to repower some of its decommissioned coal plants.
He acknowledged that the gas infrastructure was currently lacking for such a switch, despite the fact that the units at the OCGT plants had already been modified as dual-fuel units.
The utility would approach the market with its gas volume and quality requirements, but it was not yet clear that these could be met affordably given the infrastructure constraints.
Mineral Resources and Energy Minister Gwede Mantashe said recently that he expected Eskom to apply for a Section 34 determination soon to facilitate gas-to-power generation at some of the coal power stations that the utility aims to repower as part of its unfolding just energy transition strategy.
Eskom CEO Andre de Ruyter, who is in Washington DC this week, possibly to galvanise support for the just energy transition strategy, has indicated previously that the utility has a 'repowering' project pipeline of 8 000 MW comprising mainly renewables, but including a potential 1 000 MW gas project at Komati.