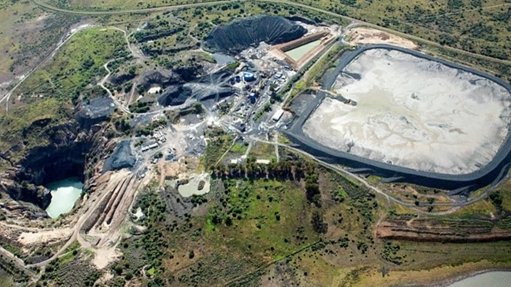 JOHANNESBURG (miningweekly.com) – JSE- and Aim-listed DiamondCorp on Thursday reported a Section 54 shutdown after a fire incident on a dump truck just inside the portal to the decline at its embattled Lace diamond mine, in the Free State, sending the diamond developer's shares on the LSE and JSE plunging for a second day.
A day after announcing a delay in the commercial ramp-up to production, the underground operations were halted by the Department of Mineral Resources (DMR), which requested an external ventilation audit team to inspect the mine for smoke and other gases, besides other instructions.
"Mine management is struggling to find logic in the instruction and is considering its options including legal means of redress. The company expects that underground mining operations will remain suspended for at least one week," DiamondCorp said in an update to shareholders.
The group also warned shareholders that it will be unable to continue trading as a going concern if a convertible debt facility currently under discussion with a third party is not secured urgently.
"The company, in addition to its longer-term financial requirements, requires additional funding in the very near term of £500 000 for immediate financial commitments in order to continue trading as a going concern," it explained.
This followed the announcement this week that the 30 000 t/m production target at the Free State-based mine is now expected to be delayed until February 2017 on the back of continued operational setbacks.
In July, a two-week DMR-ordered shutdown after a fall-of-ground accident in a development tunnel had set the full commercial production timeline back a month to August.
However, in August, production from the first mining block on the 310 m level was interrupted by flooding after development drilling for the return air pass from the production level intersected a geological contact with significant water inflow.
DiamondCorp's shares had fallen by as much as 11% on the JSE, and by as much as 30.44% on the LSE early on Thursday.