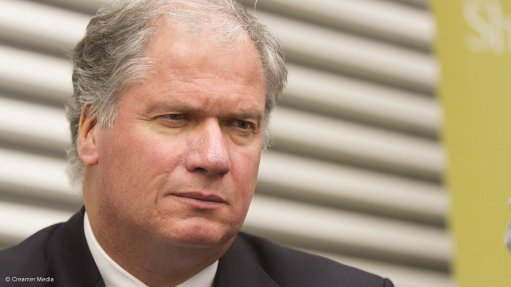 De Beers CEO Philippe Mellier
Photo by: Duane Daws
JOHANNESBURG (miningweekly.com) – Last year marked the fifth consecutive year that global diamond jewellery sales increased since the global recession and the first time that sales exceeded $80-billion; however, the latest diamond report by De Beers has warned that a repeat should not be expected in 2015.
The 'Diamond Insight Report 2015' released on Monday showed growth in the top five diamond markets, which accounted for 75% of global demand, with the US recording a 7% increase, followed by China with 6% and India with 3%, during 2014.
However, despite the overall 3% rise in diamond jewellery demand, the continued strengthening of the US dollar against all major currencies, as well as a slowdown in economic growth in China, was likely to lead to flat global diamond jewellery demand in 2015.
Further, given the muted polished demand levels forecast for 2015, rough diamond sales, which posted a 12% increase to over $20-billion in 2014, would also likely be constrained in 2015.
This was likely to impact the overall 2015 rough diamond production, which had decreased 3% to 142-million carats in 2014.
"However, the challenges faced by the sector in 2015 are expected to be short term and the industry has excellent prospects.
"The long-term trend for demand has been positive, with consistent growth in demand for diamond jewellery since the 2008/9 financial crisis. There are also further exciting growth opportunities in the main consumer markets and India is a great example of this," noted De Beers Group CEO Philippe Mellier.
The report highlighted the opportunity presented by India's growing economy and emerging middle class, with its consumer market achieving almost uninterrupted growth over the past 20 years. Also highlighted was the country's culture where precious jewellery played an intrinsic role in social and family traditions.
"[As such], India has become one of the world's largest consumer markets for polished diamonds," the report pointed out.