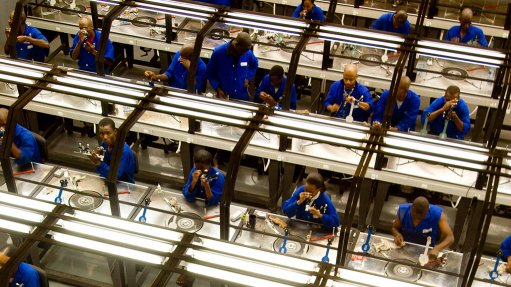 DIAMOND DRAMA It had been a really tough time for the diamond beneficiation sector
The second International Diamond Conference brought together more than 150 worldwide stakeholders, Ministers, industry experts, academics, business leaders and manufacturers to discuss the challenges facing diamond beneficiation in Southern Africa.
The conference took place in Windhoek, Namibia, in November.
In his speech, entitled Diamond Beneficiation: Think global. Think Local, diamond giant De Beers Group Forevermark CEO Stephen Lussier acknowledged that it had been "a really tough time" for the beneficiation sector.
He, however, noted that the industry fully understood and appreciated its government partners' ambitions and desires regarding beneficiation. "We are committed to playing our role in helping achieve these ambitions. Namibia's success is our success – that is why achieving sustained beneficiation targets is as much a key strategic priority for us as it is for government."
Lussier stated that diamond jewellery manufacturers were also under "no illusion" concerning their producer partners' need to earn a return on their capital to be sustainable.
"I believe that the fortunes of the Namibian beneficiation sector would be better served through an approach that may sound simple, but is, in fact, extremely complex – that is by driving polished diamond value growth," he continued.
Lussier said that this argument had recently been made by one of the leading representatives of the diamond-banking sector ABN AMRO's CEO Erik Jens.
He said that Jens had noted that the entire midstream would benefit most from looking at how to increase polished prices, rather than lobbying to push down rough prices. "Clearly this would also support the prospects of those operating in beneficiation centres, but it is easier said than done," Lussier acknowledged.
Diamond industry expert Chaim Even-Zohar, who moderated the panels at the conference, said that, despite the downturn, Namibia was still in a strong position. He pointed out that the country produced "some of the best-quality diamonds in the world", which often sold for high prices.
Challenges

Diamond manufacturing and distribution company Lazare Kaplan International board of directors chairperson Maurice Tempelsman highlighted concerns that he had relating to several recent developments within the diamond industry.
These included the "gaming" of the polished diamond certification system, which he said undermined a key pillar of consumer confidence: the fraudulent "salting" of parcels of natural polished diamonds with synthetics.
He added that, despite all the good effort invested in the Kimberley Process, there was a "relative absence" of a mine-to-finger chain of custody system that was adequate to satisfy buyers, particularly those that the industry should be most concerned with, namely the buyers of high-end jewellery, where diamonds form the centrepiece of their collections.
"We must think of a security agency with no essential stake in the health of our industry, with a power and driven by a purpose that leaves us with no room for complacency.
"The point is not to apportion blame but to observe that new structures, new relationships, new ways of thinking and operating have to be forged in an industry which may have its eyes on the future but remains restrained too much by the dead hand of the past," Tempelsman said.
He stressed that he believed that this was to be a matter not just of political inevitability, but of intellectual and strategic necessity.
"There are resources which sovereigns can bring to bear that the industry cannot, nor can we in the private sector pretend that we have all the answers, or that matters are best left to ourselves alone," stated Tempelsman.
Namibian diamond cutting and polishing company Hard Stone Processing MD Burhan Seber highlighted the distress experienced by manufacturers.
"The industry is in crisis. Manufacturers have been facing crippling challenges since 2011. These and added troubles have put the complete diamond pipeline under critical strain and [brought it] to a tipping point," he stated.
Seber contended that there was "very little doubt" that the current model had failed.
"Is beneficiation over? Take away profit and there can be no beneficiation. In hard times, when companies regroup and consolidate towards their power base, their foreign investments tend to be the first out. Beneficiation is not an act of charity, but an act of sharing," he concluded.