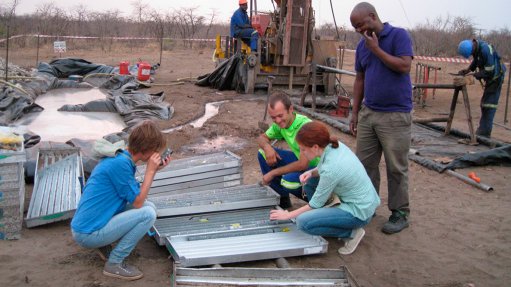 FOCUS SHIFT Botswana Diamonds and Alrosa defined a new 2015 exploration programme for the PL206, PL207 and PL210 licence areas in the Orapa region in Botswana
Aim-listed diamond explorer Botswana Diamonds (BOD) has shifted its 2015 focus to three licence areas covering more than 1 000 km2 in the diamond province of Orapa, in Botswana.
The three blocks currently receiving precedence comprise the PL206, PL207 and PL210 licence areas, BOD chairperson John Teeling tells Mining Weekly.
Based on an evaluation report of exploration studies conducted in September and October last year, which the companies received last month, BOD and Alrosa defined a 2015 exploration programme – budgeted at between $1-million and $1.5-million – for these three specific blocks, Teeling says, adding that exploration is expected to start this month.
"Currently, the priority block is PL206, where kimberlitic indicator minerals have been identified," Teeling says, explaining that the next step is identifying the origin of the minerals to establish whether they originate from the known Orapa kimberlites or from new, unknown kimberlites.
Teeling notes that Alrosa believes that, by the end of the second exploration programme, of which the evaluations are expected in April, it will be able to define drill targets, particularly for PL206, which has been described by the miner as a "very prospective block". The focus will then shift to PL207 and PL210.
"Hopefully, by June or July, we will not only have drill targets for PL206 but be better informed as to where the specific anomalies and targets are on PL207 and PL210," he adds.
Gope Exploration Outlook
Teeling notes that BOD also has an earn-in agreement on 13 licences in the Gope region of Botswana, within a licence area covering about 6 500 km2 of the Kalahari Desert.
Further work conducted by BOD and Alrosa identified targets across the region's Brightstone block. BOD currently has three targets in a corridor across the south-west of the block, while Alrosa has two targets in the north of the block.
Teeling says a large mining company approached BOD in 2014, expressing interest in diamond exploration, resulting in a new company being formed last month. The new company will be controlled by the mining major in partnership with BOD, minerals explorer Siseko Minerals and mining company Future Minerals.
BOD assigned its 13 Gope licences to this new entity and will have a 15% carry share in the new company, which means that the new company, and not BOD's shareholders, will be 100% responsible for the exploration funding up to and including a feasibility study and commercial discovery.
The new company, yet to be announced, will be capitalised with $1-million for 2015, Teeling says, noting that BOD and Alrosa will provide it with all the collected data and initial analyses results of the targets in the Gope region, "providing the company with a significant head start" to continue and enhance exploration in the area.