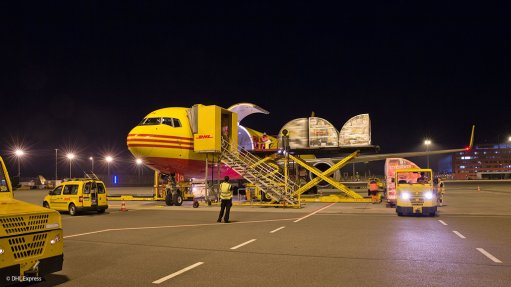 Cargo is unloaded from an DHL Express freighter
Photo by: DHL Express
Logistics company DHL Express South Africa has announced that, with effect from this month, the global DHL Express group's GoGreen Plus initiative would be available to South African customers.
GoGreen Plus allows customers to reduce the carbon emissions generated in the moving of their cargoes by having them flown on aircraft using sustainable aviation fuels (SAF).
DHL Express is the first global express carrier to offer such a service. "Our customers, like us, are dedicated to environmental conservation and committed to reducing their carbon footprint and I am thrilled that DHL Express has taken such a bold step to further reduce emissions," affirmed DHL Express Sub-Saharan Africa CEO Hennie Heymans.
The introduction of the initiative follows the creation of collaborations between DHL Express and Air bp and Neste, which allows for the supply of SAF to DHL's hubs across the globe. The SAF is being produced from waste oils. SAF can reduce lifecycle greenhouse-gas emissions by up to 80%, compared with conventional jet fuel.
Customers will be able to select GoGreen Plus when using the group's online shipping and tracking platform, MyDHL+. It will be a fully flexible service, capable of being used for individual shipments. Customers will be able to select the level of carbon dioxide-emission reductions they want to achieve and the amount of SAF that they want to use.
The initiative was first launched in the UK, with South Africa being one of the countries selected to join during the first wave of its expansion. The other countries in this first wave are Australia, Canada, Denmark, Italy, Sweden and the United Arab Emirates. GoGreen Plus will eventually cover the whole world.
"I am excited that our customers in South Africa are first in line to benefit from this solution in the sub-Saharan Africa region," enthused DHL Express South Africa MD Jed Michaletos. "Sustainability is a key focus for us as a business, and as responsible corporate citizens, we look forward to working together with our customers to make supply chains more environmentally efficient."
GoGreen Plus is part of the programme of DHL Express' parent Deutsche Post DHL Group to achieve net-zero carbon emissions by 2050. In the interim, the group has a target of using 30% SAF to power its air transport, by 2030.