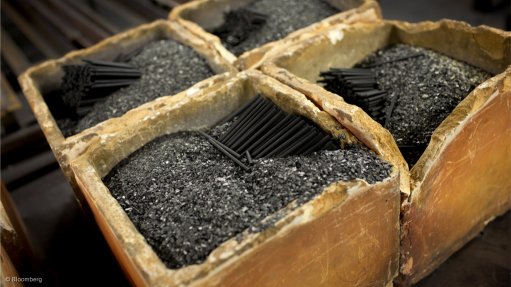 Photo by: Bloomberg
PERTH (miningweekly.com) – The definitive feasibility study (DFS) into the expansion of ASX-listed Syrah Resources' Vidalia active anode material (AAM) facility, in Louisiana, has confirmed the project's viability.
The DFS considered increasing the project's production capacity to 45 000 t/y AAM, inclusive of initial capacity of 11 250 t/y AAM, finding it would require a capital investment of $539-million, including a $38-million contingency.
Syrah Resources on Thursday reported that the study estimated a net present value of between $208-million and $794-million, and an internal rate of return of between 13.9% and 22.9%, based on a flat AAM price of between $5 000 t/ and $7 000/t.
The project is expected to generated earnings before interest, tax, depreciation and amortisation of between $103-million and $1920million,, with all-in operating costs estimated at $3 023/t, assuming a natural graphite cost of $425/t from the Balama operation, in Mozambique.
"The completion of the Vidalia Further Expansion DFS is the culmination of an extensive process by Syrah and Worley," said Syra MD and CEO Shaun Verner.
"Importantly, the DFS confirms the compelling economics for a large scale AAM production facility at Vidalia, with robust operating margins assuming realistic, market-based AAM prices. The Vidalia Further Expansion project design employs commercialised technology and processes that replicate, and in parts, optimise the 11 250 t/y AAM Vidalia facility.
"Vertically integrating Vidalia with Balama presents a unique value proposition: scale; independence and localisation with North American battery production; critical mineral security; qualification for clean vehicle tax credits under the US Inflation Reduction Act; and ESG auditability back to the mined source," said Verner.
"The Vidalia Further Expansion project is strongly aligned with target customer requirements for significant localised and qualified critical minerals supply in North America in the medium-term. We intend to progress engineering and permitting for the Vidalia Further Expansion project to maintain momentum and to prepare for a final investment decision proposal, which remains contingent on the execution of offtake and funding commitments."

Meanwhile, Syrah on Thursday reported a solid quarter of production at its Balama operation, with the project producing 41 000 t of graphite, up from the 35 000 t produced in the previous quarter.

Syrah told shareholders that despite the higher production at Balama, the project reported weaker operational performance in the March quarter, due to operational stoppages necessitated by finished product inventory constraints, and also due to minor unexpected processing inefficiencies with ore feed variability and unplanned equipment performance-related issues.
C1 costs at Balama were reported at $668/t, impacted by lower production or the quarter as well as recovery below 80%, and the increases in diesel prices since March of last year.

The company said on Thursday that given the prevailing volatile China anode market condition and the availability of significant finished product inventory, Syrah would moderate production from Balama until demand conditions and sales orders at economic prices warranted higher capacity utilisation. During this time, the company would execute operational improvements, bring forward planned maintenance, and focus on minimising costs.

The company will also review and evaluate the potential for more dynamic operating scenarios at lower capacity, to match periods of volatile customer demand and lower sales ordering, with the object of achieving acceptable unit operating costs and cashflow outcomes.