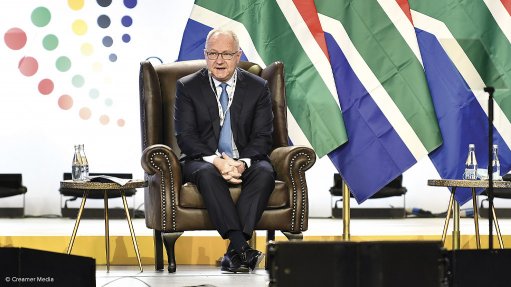 Former Anglo America CEO, director and consulting business executive Mark Cutifani.
JOHANNESBURG (miningweekly.com) – Development is the only conversation that South Africa should be having, former Anglo American CEO, director and consulting business executive Mark Cutifani said amid strong applause at the Joburg Indaba on Thursday – and mining should be recognised as an industry that can serve as a very effective development catalyst, he added.
"We're the rock on which we can build South Africa. But we need to have tough conversations, we need to be clear and we also need to listen and understand how we play our part," said Cutifani, who took over the time slot that had been allocated to Mineral Resources and Energy Minister Gwede Mantashe. (Also watch attached Creamer Media video.)
Cutifani said the country should not be scared to talk about the development that mining can bring and should opt for a strong focus on development free of dogma.
"South Africa's miracle of 1994 is proof of what South Africa can do, but development is what we have to engage in.
"Forget about the politics and which faction is doing what. Let's talk about development for this country and the future of this country. That must be the debate and we can be a champion of that debate in this country and across the globe.
"I wish people would drop ideology because it's gone. It's a new world. There's no such thing as left, right. The world's moved on. Let's think about what we need to do to develop the country, and that should be the focus" Cutifani told the conference covered by Mining Weekly.
TRUST NEEDS TO BE RESTORED
Corruption, he found, had led to mistrust and trust needed to be restored because tendering had become very difficult because of over control.
"If you're doing a tender with the South African government, it's the most painful, difficult process I've ever seen.
"There has to be trust and there has to be a practical process, because it's not practical at the moment," he said.
"Having seen some of the tenders that have been submitted to Eskom, the people are so painfully making sure everything's done right, which is great, but it's slowing things down months.
"Eskom has to go through so many hoops, steps and jumps that we don't have to go through in private enterprise because we build an organisation on the basis of one word – trust.
"Even though one can assume that in our organisation at least 5% of the people are going to be dishonest, I refuse to build an organisation around mistrust," he said.
Government processes needed to be streamlined, bureaucracy removed and dishonest people dealt with.
Cutifani described the breaking of that nexus as being critical, with business needing to work with government to improve the situation.