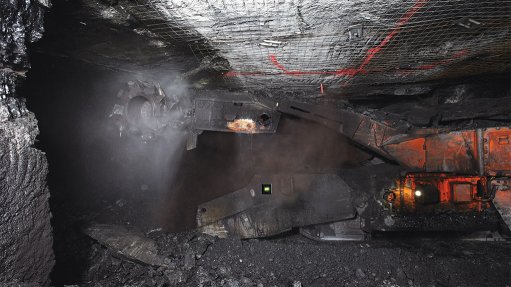 COALFACE VALUE Keeping damages and costs down at the coalface is more achievable with the sidewall detection system
The second installation of a custom-made sidewall detection system was completed by monitoring solutions provider Monitech at diversified miner Anglo American's Zibulo coal colliery, in Mpumalanga, last month.
The system was designed and installed to help prevent damage caused to the scrubber fan of the continuous miner (CM) when it comes too close to the coalface, when not guided correctly by the machine operator.
Monitech was tasked with developing the first sidewall detection system for the colliery to help increase operator safety and decrease monetary losses from maintenance needed on the systems.
The initial research and development (R&D) spanned six months and was conducted by the company's development team, headed up by Monitech GM Renier Rautenbach at its head office in Benoni, Gauteng. Subsequent to the development period, the sensors were installed on the CM and, after a further three-month trial period underground, the installation was finalised in September last year.
"The sensors were brought in by Monitech and then developed to suit South African mining requirements and intrinsically safe standards," says Rautenbach, adding that the new system is not only intrinsically safe but also conforms to Anglo's standard operating procedures and standards.
Rautenbach notes that a few challenges were encountered when developing the system, such as having to physically align the sensors to optimise the results achieved, as well as working with original-equipment manufacturers to integrate the system without detracting from the CM's efficacy.
After an undisrupted, maintenance- free period, the second sidewall detection system was installed on another CM at the mine.
Rautenbach emphasises that Monitech's systems are robust, are often maintenance free and do not need to be realigned to varying conditions. "Monitech supplies quality safety and monitoring systems to the majority of South Africa's underground coal operations and has a considerable investment in the industry . . ." he says.
The company is also involved in various projects, including a roof bolt placement system, which is being rolled out. The system allows for accurate and correct spacing of roof bolts, which is an integral part of a mine's construction, and often a very strictly monitored "process.
"Monitech prides itself on developing bespoke solutions for clients at varying levels of scale – from individual items to high-volume integrated systems," concludes Rautenbach.