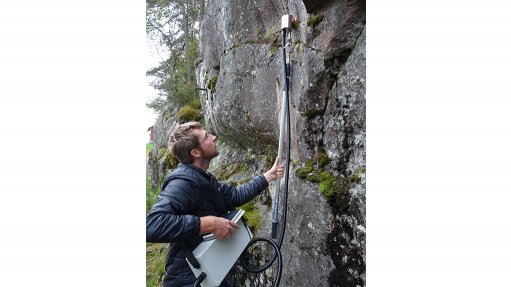 SPECTOMETRIC DETECTION The special design of the device features a bendable measuring head with a diameter of 15 cm
German environmental technology company InterEnviroCon's spectrometric device for the detection of rare-earth oxides is useful in African mining and exploration because it can be successfully operated by less qualified personnel while relaying detailed information for expert analysts.
Samples need not be taken to ascertain the presence of rare-earth oxides, thereby saving significantly on labour and laboratory expenses. This is particularly helpful for large-scale applications.
"Less qualified personnel can carry out initial investigations because the interpretation of the spectrum is carried out directly on the device. The user is presented only with a simple display resembling a traffic light, which is simple to interpret," explains InterEnviroCon development head Frank Pustlauck.
A green light indicates relevant contents, a red light nonrelevant contents and a yellow light the transitional range.
The simultaneous display of the detailed spectrum also offers experts deeper insight into the mineral composition, which can be more useful than the output of data from individual elements of a portable X-ray fluorescence device.
"In addition to the element contents, the structures of the minerals are of decisive importance for mining suitability," states Pustlauck.
Spectrometric detection – using near infrared spectra (NIR) and visual spectra (VIS) – of surfaces to find spectral fingerprints of rare-earth oxides are semi-quantitative.
"This means that, in addition to a qualitative statement regarding the presence or absence of rare-earth oxides, to some extent contents can also be determined," InterEnviroCon CEO Dr Oswald Blumenstein explains.
The device consists of a spectrometer worn on the body and a measuring head, which is placed on the surface to be examined. A light cable connects the measuring head to the spectrometer. Radiation is emitted from the measuring head and the radiation that is reflected from the surface is recorded and analysed.
Blumenstein notes that, by using VIS and NIR reflections by means of the built-in light source in the measuring head, there is no risk to the operator.
"Neither laser light nor X-rays are emitted by the device. Therefore, no safety training is necessary," he notes.
The device's total weight of only 5 kg enables one person to measure without assistance for extended hours.
"Owing to the special design of the device, which features a bendable measuring head with a diameter of 15 cm, it is possible to measure not only horizontal and flat surfaces but also bevelled and vertical surfaces," Pustlauck explains.
Moreover, for the spectrometric measurement inside boreholes, including the base and walls, the measuring head can simply be positioned for one second at the point to be examined. This can currently be done up to the maximum length of the light guide and cable (1.5 m), but could also be extended on a customer-specific basis.
Blumenstein says this technology is particularly useful in the exploration of monazite-bearing river and coastal sands. It can also be used for the detection of rare-earth oxides in tailings dams.
Moreover, the technology's use in the creation and investigation of boreholes can be advantageous, as the differently developed layers have different rare-earth oxide contents.
"The same applies to surfaces of magmatic and metamorphic monazite-bearing solid rocks. In such rock formations, information about deposits worth mining can be obtained quickly during an initial investigation by drilling through the weathering layer," he explains.
Pustlauck says the detection of rare-earth oxides is not exclusively useful for exploration, as this mineral group is also environmentally relevant in waste management or contamination detection.
However, he explains that the use of reflected radiation in the VIS and NIR ranges also provides for a range of potential additional applications.
"Any material or solid or loose rock with a spectral fingerprint can be identified with this technology. All that is needed is a software update," he tells Mining Weekly.
Blumenstein notes that the size of mining facilities and exploration areas in Africa promise "enormous potential" for the introduction of such technology.
"Since an initial investigation or reconnaissance involves a lot of effort, any relief in this regard can offer enormous savings. Moreover, smaller companies often lack well-trained personnel," he says.
Other Contributions
Blumenstein says that InterEnviroCon's largest contribution to the African mining sector is the technologies that were developed to mitigate some of the problems in ensuring quality water and assisting with land rehabilitation.
For example, the company's Fr.O.S.C.H product is a multigas analyser that measures crucial water parameters and dissolved gas concentrations on site on any water level up to 5 m. The immediate read-out assists in identifying polluted areas and helps to track pollution plumes.
"This technology can mainly be used in monitoring boreholes around facilities, such as tailings storage facilities, return water dams and stockpiles," Blumenstein explains.
Additionally, InterEnviroCon's Bodenbalsam-N product is a soil additive that functions as an organic fertiliser and a product that drastically increases the store and release capacity of the growth medium.
"This saves on irrigation water and aids in vegetation establishment. The key focus is obviously on disturbed mine areas, where the topsoil has been degraded. It is also useful on tailings storage facilities," Pustlauck concludes.