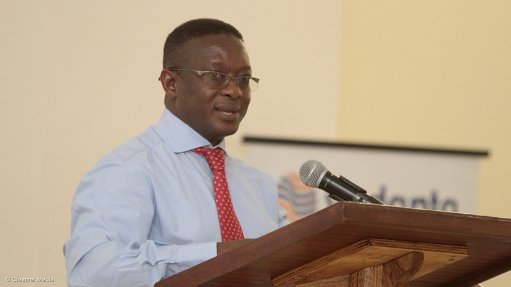 Deputy Mineral Resources Minister Godfrey Oliphant
Photo by: Duane Daws
JOHANNESBURG (miningweekly.com) – South Africa needed to establish a Migdett – a mining industry growth, development and employment task team – for the junior mining sector, which was crucial for future exploration success, Deputy Mineral Resources Minister Godfrey Oliphant said on Wednesday.
Oliphant reminded the Junior Indaba that Migdett – a joint thrust by government, business and labour – was established to assist mainstream South African mining companies during the headwinds faced in 2008, and was now needed for the junior mining sector, which was in dire straits.
Oliphant said the government stood ready to lock arms with the mining sector to take mining into its next expansive growth phase.
He said South African mining experience was acknowledged worldwide and the country had wonderful geology.
"Our geology rocks," the Deputy Minister punned.
But exploration had dried up and needed to be resuscitated if South Africa's mining industry was to have a future.
Subsequent speakers urged the Deputy Minister to digitise South Africa's mineral tenure system in the way it was done in many African countries and global mining jurisdictions.
"We have a minerals tenure system in South Africa, which is abysmal," said Global Diamond Networks director Dr John Bristow, who recommended the adoption of the cadastre system developed in South Africa by the company Spatial Dimensions, as a way of stimulating investment in exploration.
Spatial Dimension, which has sold its highly regarded cadastre system to many countries in Africa but not South Africa where it all began, last month announced Cameroon as its twentieth FlexiCadastre user.
Cameroon recently went out on international tender for a modern mining cadastre system through the mining sector capacity building project called Precasem, to which the World Bank has given $30-million support.
Cote d'Ivoire is another African country that is using Spatial Dimension's modern mining cadastre system to good effect.