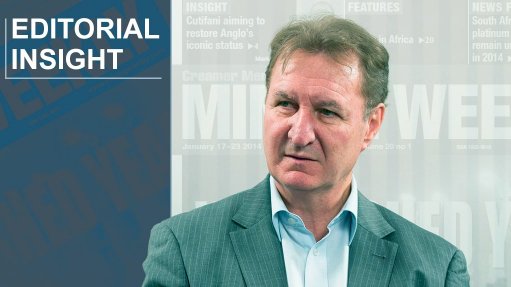 Mining has the wealth-generating potential to boost the economies of countries, but these countries must, in turn, at least do their bit by putting in place a good governance framework.
Regrettably, against the background of the report of former Public Protector Thuli Madonsela, South Africa can kiss meaningful, honest mining investment goodbye until it pulls itself right.
The observations made in the former Public Protector's 'State of Capture' report point to South Africa's governance having fallen to its lowest point. (Also see page 7 of this edition of Mining Weekly).
On top of all that, last week's passing of a new minerals Bill by Parliament has again failed to derisk mining investment.
The discretionary power still in the hands of Mineral Resources Minister Mosebenzi Zwane is alarming, particularly against the background of the observations in the Madonsela report of his irregular behaviour.
It is also wrong that hope now has to vest in the Bill's flaws being removed by the National Council of Provinces, as well as at regulatory level.
As pleaded for by the Democratic Alliance Shadow Mineral Resources Minister James Lorimer, certainty is best brought through legislation, not regulation. (Also see the report on page 13 of this edition of Mining Weekly.)
What South Africa is losing out on, as a result of its errant regulatory behaviour, is highlighted in the latest report of the International Council of Mining and Minerals (ICMM), which ranks 183 countries according to the relative economic importance of mining.
The new data highlights the importance of governance in broader- based economic and social progress.
Currently, South Africa's Department of Mineral Resources (DMR) is throttling that progress and must be stopped in its tracks forthwith.
It must not be allowed to play fast and loose with mine rehabilitation money and must not be allowed to continue to award mineral licences clandestinely.
Business and labour should combine to force full transparency when it comes to rehabilitation guarantee information and mineral licence awards.
Everything should be posted on the Internet for all to access and the DMR should be forced to take its cue from organisations like the ICMM and the Extractive Industries Transparency Initiative (EITI) to improve transparent reporting and governance.
In fact, against the current background, joining the EITI should be a must.
Australia's Federal Resources and Energy Minister, Josh Frydenberg, has revealed that his country – which has none of the regulatory notoriety of South Africa – will be joining the EITI, yet South Africa's Treasury wrongly pooh-poohs the idea.
This is not the only correct move that the Treasury has let the South African economy down on.
It has also gazetted a nonsense under the guise of promoting mineral exploration after first promising a concept like Canada's flow-through scheme and then rejecting it in favour of its own abject failure.
But Treasury refuses to budge and, by doing so, has lost the people of South Africa a fortune of potential opportunity.
A truth commission would have many of our high and mighty politicians in the dock for neglecting to take obvious steps to grow our economy for the benefit of all South Africans.