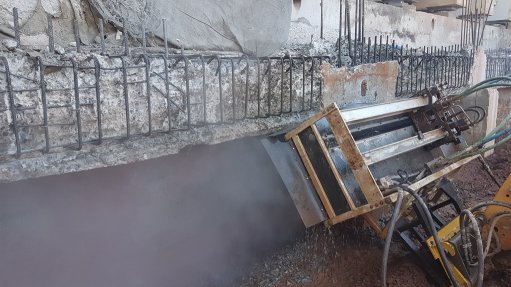 NONDESTRUCTIVE EFFICIENCY High-pressure water jetting allows for concrete removal without rebar damage
In the last three to four years, hydrodemolition by means of automated technological advances has become an increasingly popular method for significant concrete repairs, says water blasting and surface preparation equipment supply company Total Blasting director Bradley Storer.
He says the high-pressure water jetting pumps market scope is also growing, with constant development in tooling accessories for high-pressure water jetting resulting in new applications for hydrodemolition.
He explains that hydrodemolition comprises the use of high-pressure pumps, water and robotics, which allows for cement-based materials to be broken down and removed on site.
"It is a special demolition technique that employs high volume. It can target the specific demolition area with relative precision, which supports a cleaner demolition site and structural integrity," Storer mentions.
Unlike conventional demolition methods such as jackhammering, hydrodemolition does not damage the reinforcing bars (rebar) or any surrounding structure. It therefore offers a nondestructive way of removing deteriorated concrete from existing structures, leaving the rebar and any existing steel reinforcement intact for concrete recasting or repair, he adds.
However, high-pressure water use in hydrodemolition remains a concern, highlights Storer, especially in light of South Africa's water scarcity. Factors such as climate change, intermittent rainfall and increased populations in urban areas, further exacerbate the country's already limited water supply.
As such, he reassures that going forward, research and investigation is currently being conducted on the recycling of water during the hydrodemolition process, to keep water use to a minimum.
Typical hydrodemolition applications include bridge repair, wharf and harbour repair, road repair and building repair.