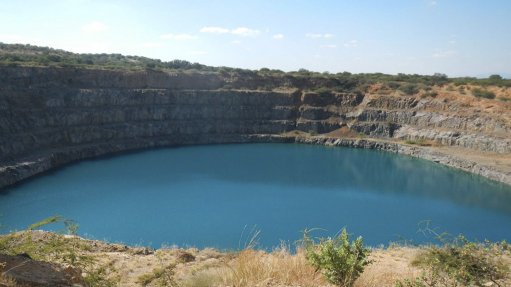 ABANDONED MINE In the case of an unplanned mine closure the implications are significant
Mine closure is a field where best practice continuously evolves and there is likely to be a strong demand for this expertise as mines look to remain current and, in some instances, begin the closure process, says consulting engineers and scientists SRK Consulting partner and principal consultant Andrew van Zyl.
Many South African mines have to face the reality of mine closure and the associated technical, financial and environmental implications because of a combination of mines reaching the end of their lives and the tough economic climate, according to SRK.
SRK partner and principal environmental scientist James Lake tells Mining Weekly that these implications largely depend on how mine closure occurs.
In the case of an unplanned closure – and especially when there has been insufficient planning – the implications are significant, he notes. A 'hard stop' can result in a workforce facing imminent retrenchment and loss of livelihood, while communities potentially lose the support provided by a mine and the suppliers' contracts that are cancelled.
The mine needs to provide substantial financial resources to implement these remedial measures at a time when the operation is not generating revenue, he comments.
However, when an operation has done the necessary planning towards closure, many of the risks associated with unplanned closure can be mitigated, Lake points out. Where a mine proactively transitions to closure, it can undertake rehabilitation concurrently with operations; this reduces not only potential environmental impacts, but also the financial burden at the planned end-of-life.
Further, it is important that mines do not approach their closure responsibilities as purely a compliance exercise, SRK senior social scientist Adel Malebana emphasises.
"A long-term approach is required, in which the operation builds stakeholder relationships and institutional memory and cumulative knowledge about which strategies work and which do not. "Frequently, the disruption that mines experience through community action is based on legacy issues – where past expectations have not been met and resentment simmers."
Moreover, she points out that, in many cases, mines' expenditure on managing their social impacts is still regarded as a grudge purchase and, therefore, one of the first cost items to be cut when financial difficulty looms. A lack of capacity and resources during a mine's social transitioning efforts can, however, lead to a breakdown in relationships with communities, exposing a mine to operational and reputational risk, she warns.
SRK senior social scientist Jessica Edwards adds that the focus of social closure planning is often on how to deal with the physical infrastructure or the quantum of retrenchment packages. "Questions of human sustainability – such as alternative livelihoods for affected communities, are more difficult to address, and the mine often does not have experience or expertise in these fields," she points out.
However, SRK has been at the cutting edge of social closure for many years and has much to offer the industry in terms of approaches, tried-and-tested methodologies, and tools to implement appropriate solutions both at mine level and more strategically.
"Key to our contribution is to help mines develop and maintain a focus on social transitioning that benefits both the company and the relevant communities," Edwards highlights.
"A growing role for mining consulting is advising mines in proactively creating a firmer foundation for collaboration with stakeholders, which includes, for instance, building constructive relationships based on a shared vision for a post-mining future," notes Malebana.
Lake states that, at the end of its life, a mining operation is required to at least undertake closure activities to achieve a post-closure landscape where the environmental and social risks are acceptable to the mine and to the stakeholders directly and indirectly affected. Some mining houses do more than just mitigate risks at closure – they aim to leave a positive legacy, he adds.
"In either approach, closure strategies must be developed to mitigate impacts that occurred during operations; these strategies are expected to be indefinitely sustainable so that no further impacts can occur."
He highlights that SRK has vast experience in closure planning and uses in-house technical specialists, such as civil, geotechnical and environmental engineers, as well as hydrologists, geohydrologists, soil scientists, biologists and social scientists, to prepare closure plans. Their respective input is integrated to achieve the best outcome for the mine, its stakeholders and the environment.
Although mining houses are progressively improving their closure planning efforts, integrating closure planning into operations has, in SRK's opinion, occurred only on a limited scale. This is largely owing to the production focus of most operations, and the relatively short-term tenure of management, Lake notes.
"Senior management should be encouraged to be proactive through the inclusion of closure or rehabilitation as criteria in their key performance indicators."
However, it is important that staff responsible for planning should develop sound and compelling business cases to highlight to management the financial and other benefits of planning and implementing closure actions during operations, he concludes.