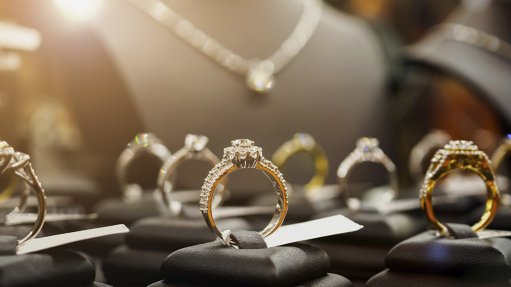 GOLD IS GOOD Demand for gold has been strong historically and will continue to be so, owing to the perception of gold as a safe haven in troubled economic times
The popularity of gold jewellery globally and locally has held steady, with demand increasing in South Africa, owing to the increase in middle-class spend, says the local jewellery industry custodian Jewellery Council of South Africa chairperson Chris van Rensburg.
He says demand for gold has been strong historically and will continue to be so, owing to the perception of gold – and by implication, gold jewellery – as a safe haven in troubled economic times.
Van Rensburg tells Mining Weekly that no other alternative precious metal has exceeded gold in demand. Even a finer metal, such as platinum, priced at about $800/oz, has not succeeded in taking market share in the jewellery sector from gold, priced at about $1300/oz.
In rand terms, he says the platinum price is similar to gold, owing to the purity of the alloy, which is 95% pure platinum, compared with that of 18 ct gold, which is 75% pure gold. Despite the purity of the alloy, demand has not shifted to platinum.
Although the platinum industry has done its best to establish the precious metal in the jewellery market, it has never been regarded as a safe haven in harsh financial times, Van Rensburg adds.
This perception is held globally, with the World Gold Council (WGC) reporting in May that global gold demand in the first quarter of this year grew by 7% year-on-year, with central banks driving this growth with net purchases reaching a six-year high.
"Diversification and a desire for safe, liquid assets were the main drivers of buying here," says the WGC.
Van Rensburg notes that locally, economic challenges are impacting on gold demand, but the bridal market remains stable. However, while retailers are finding that a similar number of units are being sold, overall spend is lower.
The adornment market is different, he says. This market has moved away from gold, owing to changing fashion trends and the affordability of the yellow metal. "Where every second man in the 80s may have worn a thick gold chain, this is no longer the case. The jewellery of today is also finer, delicate and lighter," he points out.
Subsequently, the 14 t/y to 16 t/y of locally produced gold consumed by the South African jewellery manufacturing market 25 to 30 years ago, has decreased to 1.1 t/y, owing to the dwindling local manufacturing industry. The South African gold mining industry produced 132.2 t of gold in 2018, down from 136.8 t in 2017, according to Minerals Council South Africa.
Competing with Imports
Van Rensburg says local demand for gold jewellery may have been halved, owing to fashion trends and affordability, but he attributes the major reduction in gold demand by the local jewellery manufacturing sector to imported goods.
"We are on the back foot in a market where domestic demand has definitely increased, owing to a rising middle class.
"Unfortunately, South Africa's domestic demand is met by 70% to 80% of imported goods, as it has become easier to import gold jewellery than to manufacture it locally."
He attributes this to many reasons, one of which is overregulation: "It is not that we need to find new markets to grow local jewellery manufacturing capacity – we need to improve demand for locally manufactured jewellery".
Subsequently, the Jewellery Council and its members endeavour to promote consumer confidence in locally manufactured jewellery and maintain its emotional and economic value, "because without the consumer, we are dead in the water", says Van Rensburg.
He notes that import challenges started when the sanctions against South Africa were lifted and the country re-entered the global economy, as manufacturers stopped recapitalising their factories and, subsequently, training. This resulted in manufacturers becoming importing wholesalers, which, in turn, reduced local jewellery manufacturing capacity. This was owing to the variety available and price points.
"Without tariff protections, it was easy for this to happen and, consequently, a generation of jewellers was lost," notes Van Rensburg.
Training Rethink
Since 1994, a great deal of money has been spent on training jewellery manufacturers, but there has not been a parallel initiative to stimulate growth to ensure that these trained individuals can be absorbed by the local jewellery manufacturing sector.
Locally, Van Rensburg says, training initiatives and funds are still focused on promoting traditional hand-made jewellery manufacturing. Van Rensburg says international training initiatives focus on technology-driven manufacturing, which not only accelerates production but can also improve quality.
The South African industry has introduced technologically advanced manufacturing procedures, but skilled individuals in this area are lacking, owing to the country's traditional curriculum.
"The demand for traditional hand-made jewellery will always exist, but it comes at a price point that does not favour the South African market," Van Rensburg advances.
Although locally qualified jewellers are being trained to international standards, he says not everyone can be a goldsmith. People need to be equipped with other skills, such as that of production line workers, to increase employment.
However, Van Rensburg states that the government training framework is "set in stone" and the initiation of the processes required to change the focus of this training will take years, leading to the loss of yet another generation of jewellery manufacturers.
Therefore, he expects the transition to technology-driven manufacturing to pose a challenge in implementation.
Video Blurb:
https://youtu.be/1x-Jk9vtz4c
To watch a video in which Jewellery Council of South Africa chairperson Chris van Rensburg talks about local demand for gold jewellery, scan the barcode with your phone's QR reader, or go to Video Reports on www.miningweekly.com