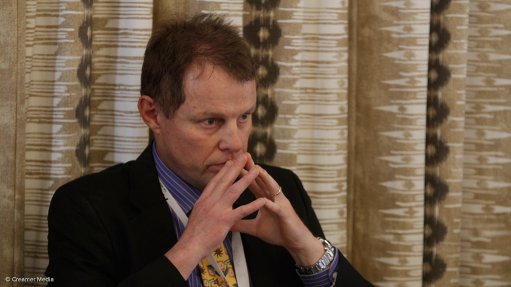 Rockwell Diamonds CEO James Campbell
Photo by: Duane Daws
JOHANNESBURG (miningweekly.com) – After suspending its finance-raising efforts at the end of August amid the downturn in global commodity and equity markets, diamond explorer Rockwell Diamonds has described the ongoing challenge of balancing its working capital requirements with its debt obligations, which now stood at $20.2-million.
"While it is positive that both our Middle Orange River (MOR) operations are cash positive, we are faced with balancing capital requirements and, at the same time, servicing the debt that allowed us to close on the Remhoogte–Holsloot Complex (RHC) acquisition, without compromising on our future growth potential and exploration objectives.
"We [also] remain focused on our exploration objectives, which are key to delivering new value-accretive operations from our existing property portfolio that have long mine lives while we continue to evaluate consolidation opportunities," CEO and president James Campbell said in a financial update on Friday.
Noting that it continued to make progress with the promised restructuring of its business following the recent RHC acquisition, Rockwell reported that the existing acquisition debt provided by key shareholders of $16.5-million would remain in place for the immediate future.
However, the terms of this debt provision would be amended following a shareholder vote in September, which would result in operating cash flows from diamond sales being used to service and repay debt.
Campbell cautioned that this could dampen the company's ability to fast-track its exploration and development projects, depending on diamond production and value.
The company had, since May, repaid $3.8-million of acquisition and convertible debt, including the settlement of the $2-million convertible debenture.
PIPELINE DEVELOPMENT
Reflecting on Rockwell's performance for the three months to August 31, he noted that the company continued with exploration and feasibility work, with a specific focus on the near-term potential Wouterspan and Lanyonvale operations as part of rebuilding its operational footprint in the MOR.
The company delivered a net profit of $1.2-million for the quarter, driven mainly by the unlocking of value in the beneficiation pipeline, as well as the impact of eliminating operating losses at Niewejaarskraal (NJK) following its suspension in April.

First-quarter revenue increased 24% to $21-million, comprising $12.3-million from diamond sales and the balance from beneficiation revenue.
Total beneficiation revenue of $8.7-million in the second quarter included $2.7-million of Rockwell's share of the profit on the sale of polished diamonds during the quarter.
"In addition, in August, Rockwell sold the beneficiation pipeline of goods mined up to February for $6-million, a portion of which was set off to pay entirely the $2-million convertible loan agreement with principal shareholder Daboll Consultants," the company held.
MOR-sourced carats sold were up 40% on the prior year, with revenue from these operations increasing 6% from the prior year in dollar terms.
Average cash costs declined 14% to $11.20/m3 over the quarter, notwithstanding lower volumes processed by MOR operations as a result of mining predominantly Rooikoppie gravels, as well as middlings from a previous
operator.
Volumes were, meanwhile, lower mainly owing to the suspension of operations at NJK, ramping up to 130 000 m3 by the end of the quarter.
"Rockwell continues to work towards building throughput to deliver on the processing of 500 000 m3 of gravels a month from MOR operations to achieve sustainable profitability.
"However, progress has been slowed by suspension of operations at NJK and limited capital to implement capacity upgrades at RHC," Campbell said.
The group generated cash flow from operating activities of $3.7-million in the quarter, ending the three months with negative net cash and cash equivalents of $2.4-million.
LIQUIDITY HEADWINDS
Commenting on the larger global diamond market, Campbell said demand seasonality had, this year, been exacerbated by a troubled diamond market owing to a lack of liquidity, resulting from scarcity of finance and high inventory levels.
Muted retail sales in China and Hong Kong, coupled with a struggling global commodity market, had further dulled apetite.
"The polished market is still overstocked and prices of polished diamonds have reduced by around 5%. Diamond manufacturers have not been producing and prefer to keep factories closed rather than manufacture expensive rough to subsequently lose money in selling polished diamonds.
"There have been factory closures, but the preference in the industry is to avoid retrenchment and retain skills for when markets resume," he explained.
In spite of the challenges, Campbell added that open market rough and polished diamond prices seemed to have troughed.
"Primary rough producers will bring the prices down in line with the market. The US is now the strongest market and, as we head into the festive season, liquidity should improve through reduced inventories. Price stability is foreseen for the remainder of the year, with increases only coming through from next year," he remarked.
Looking ahead, Rockwell said it would remain focused on rebuilding its MOR production profile and delivering further growth opportunities from its project pipeline, as well as new business opportunities.
Immediate priorities included increasing the capacity of RHC to 200 000 m3 with the installation of infield screening capacity; addressing working capital and finance repayment obligations; extending operations at Saxendrift for an additional six months to the end of the 2016 fiscal year; and working towards the completion of the exploration programme at Wouterspan.