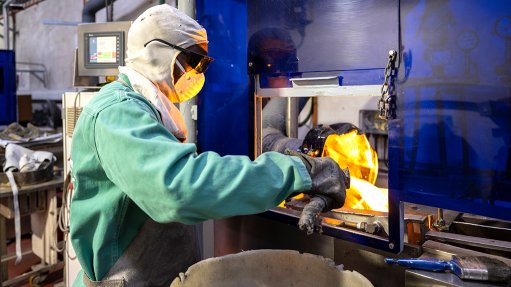 Impala Refinery in Springs
Photo by: Implats
JOHANNESBURG (miningweekly.com) – Platinum group metals (PGMs) mining and marketing company Impala Platinum Holdings (Implats) on Tuesday delivered robust earnings and free cash flow generation for its half-year ended December 31, despite the retracement in rand PGMs pricing from recent highs and a decline in sales volumes.
Headline earnings of the JSE-listed company were 4% lower, at R13.8-billion, than the previous comparable period, with the group generating free cash flow of R15.1-billion, closing the period debt-free and with net cash of R18.5-billion excluding leases.
The Implats board approved the declaration of an interim cash dividend of 525c a share, after spending R9.2-billion on acquiring 35.3% of the shares in Royal Bafokeng Platinum (RBPlat) during the period.
Profitability and cash generation remain strong, which is indicative of the enduring robustness of the current PGMs cycle, Implats CEO Nico Muller stated in a media release to Mining Weekly.
Under way, he said, was an integrated plan to increase capacity across the group's smelting and refining assets, advance the reduction of Implats' carbon footprint and deliver sustainable improvements in environmental performance.
Muller described the proposed acquisition of all outstanding RBPlat shares as providing "compelling strategic, operational and financial benefits for both Implats and RBPlat stakeholders and communities.
It would, he said, secure a production base on the western limb of the Bushveld Complex and deliver tangible socioeconomic benefits for the region, its communities, and South Africa as a whole, including employment security and sustained indirect benefits for the greater-Rustenburg region.
Key project advances include:
approval of the life-of-mine extension projects at Impala Rustenburg 12 Shaft and 11 Shaft, and progress of project studies at Impala Rustenburg's 1, 14 and 20 shafts.
approval and initiation of the spending of R496-million at Impala Refineries on de-bottlenecking the Base Metals Refinery in Springs by expanding matte treatment capacity by 10%.
the R5.1-billion Phase II project at Marula mine being under way to deliver a 17-year life extension and increase capacity by 40 000 oz/y.
Two Rivers R5.7-billion Merensky project being on schedule to expand production by 180 000 oz/y, with full production in financial year 2025.
$204-million worth of mine replacement/expansion projects progressing well at Zimplats' Bimha and Mupani mines, with $94-million being spent to increase the capacity of the third concentrator plant by 80 000 oz/y from 2023. Approved is the $521-million expansion of existing smelter capacity and the installation of sulphur dioxide abatement. The first matte production is scheduled for the third quarter of 2024, with commissioning of the acid plant expected in the first quarter of 2025.
Zimplats also receiving licence approval for the building of a 185 MW renewable solar project, the first $37-million phase of which is under way.
FIVE FATALITIES
In the six months, five fatalities occurred at Impala Platinum's 6 Shaft and 16 Shaft in Rustenburg against the background of the group improving its lost time injury frequency rate by 21%.
At group level, 88% of employees, including contractors, have been fully vaccinated against Covid, with employees at Zimbabwean and Canadian operations 100% vaccinated.
Operationally, Implats reported being hit by extended safety stoppages, industrial action, power disruption and a shortage of critical skills in Canada.
Half-year sales volumes fell by 5% to 1.55-million ounces and costs rose by 17% to R16 756/oz in a period when capital expenditure totalled R3.6-billion.
Gross profit of R17.9-billion was 20% lower.
Tonnes milled from managed operations declined by 4% to 11.30-million tonnes, with lower reported volumes at Impala Rustenburg and Impala Canada offsetting improved throughput at Marula. Concentrate production at managed operations decreased by 4% to 1.16-million ounces.
Half-year revenue of R55.6-billion was 4% lower and higher dollar metal prices, which resulted in a 14% benefit, offset a 5% reduction in sales volumes and an 8% stronger rand:dollar exchange rate.
About 64% of the R15.1-billion free cash flow generated was allocated to growth and investment through funding the cash portion of the acquisition cost of the 35.3% shareholding in RBPlat, investment in brownfield expansion projects at mining and processing operations, and contributions to venture capital PGMs-promoting company AP Ventures.
Implats maintained its previously signalled dividend policy, by allocating 30% of adjusted free cash flow, or R4.5-billion, to shareholder returns in the form of the cash dividends to Implats shareholders, while minority shareholders in Zimplats received R0.2-billion in dividends. Finally, 5% of free cash flow was allocated to strengthening the balance sheet through cash retention of R0.5-billion and a R0.3-billion investment to cash fund future rehabilitation obligations.
Implats reported that all three major PGM markets – platinum, palladium and rhodium - recorded fundamental surpluses in 2021.
The combination of accelerated destocking of producer inventories coupled with the shortfall in expected auto demand owing to the worsening semi-conductor shortage resulted in a year characterised by extreme volatility, with tight physical markets and price support in the first half of the year countered by increased primary and secondary refined supplies and erratic auto purchases in the latter months, the company stated.
It added that Western World investor interest in platinum softened as global inflation persisted and central banks signalled the 'beginning of the end' of expansive monetary policy, and the resultant retracement of physical investment demand resulted in a market surplus of 975 000 oz.
In palladium and rhodium, reduced original equipment manufacturer purchases in the face of chip shortages were met with a wall of secondary material and accelerated destocking by peer producers, resulting in market surpluses of 362 000 oz of palladium and 173 000 oz of rhodium.
Platinum remains vulnerable to changes in broader precious metal investor sentiment in the short to medium term.
Implats stated that it remained confident in its assertion of elevated strength in PGMs, and the strategic rationale of accelerated investment to secure the long-term sustainability and competitiveness of its diverse asset suite, including its industry-leading integrated processing assets.
Operational focus in the remainder of financial year 2022 would be on restoring operational momentum at Impala Rustenburg and Impala Canada, progressing delivery across the project suite and advancing projects approaching approval.
The impact of production shortfalls relative to expectations at Impala Rustenburg and Impala Canada, together with the extension of processing maintenance, has necessitated revisions to previously provided key guidance parameters.
Production volumes will be negatively impacted by the accumulation of inventory and group refined production in 2022 is estimated to be between 3.1-million ounces and 3.20-million ounces.
Group operating costs are forecast to be between R16 800/oz and R17 400/oz on a stock-adjusted basis.
Group capital expenditure is forecast to be between R8.5-billion and R9.5-billion as project approvals at Zimplats have necessitated upward revisions to previous guidance.