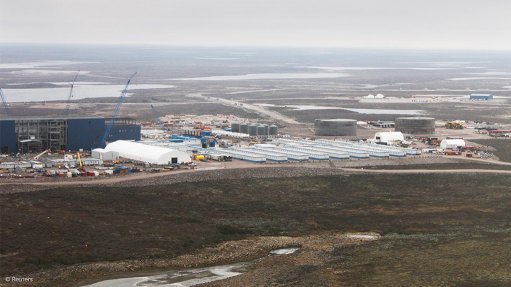 De Beers' Canada-based Gahcho Kué mine
JOHANNESBURG (miningweekly.com) – Buoyed by stronger trading conditions and a contribution from the ramp-up of its Canada-based Gahcho Kué mine in the fourth quarter of 2017, diamond giant De Beers increased its total rough diamond production for the year by 22% to 33.5-million carats, boosted by a 5% increase in production in the fourth quarter to 8.1-million carats.
However, among other factors, production ramp-up at Gahcho Kué, as well as at the group's Botswana-based Orapa mine, impacted on the full-year consolidated average realised price, which stood at $162/ct – 13% lower than the average realised price in 2016. Also contributing to the lower average price per carat were a recovery from the initial ramp-up of India's demonetisation programme in late 2016, and strong demand for lower-value goods held in stock from December 31, 2016. According to De Beers, the lower-value mix was partially offset by a higher average rough price index, which was up 3% year-on-year.
Meanwhile, the group's Botswana-based subsidiary, Debswana, increased diamond production for the year to 5.5-million carats. Production at Orapa mine increased by 14% owing to planned increases in plant performance and a ramp-up of Plant 1, which had been under partial care and maintenance in response to trading conditions in late 2015. Orapa's performance was partially offset by Jwaneng mine's performance, which saw a 15% decrease in production owing to expected lower grades.
De Beers' Namibia production – facilitated by Namdeb Holdings – increased 14% to 488 000 ct, owing to higher grades at Namdeb's land operations, while the group's South Africa production decreased 17% to 1.1-million carats, largely as a result of planned sequencing of ore sources at Venetia, where the increase in tonnes treated was more than offset by a reduction in grade.
In Canada, production doubled to 993 000 ct, owing to the ramp-up at Gahcho Kué, which reached nameplate capacity in the second quarter.
Consolidated rough diamond sales volumes in the fourth quarter remained at 7.5-million carats – no change from the same comparable period in 2016 – while total sales volumes increased by 2.5% year-on-year to 8.2-million carats, from 8.0-million carats the fourth quarter of 2016.
Consolidated sales volumes for the full-year were 33.1-million carats, up 10% from the previous year's comparable quarter of 30-million carats, while total sales volumes – which are comparable to production – were 35.1-million carats, up 9.7% from 32-million carats in the previous comparable quarter.