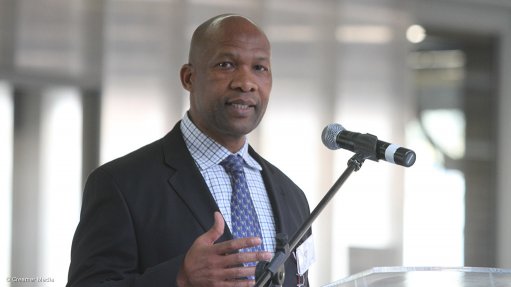 De Beers Sightholder Sales South Africa sales head Peter Moeti
JOHANNESBURG (miningweekly.com) – Diamond miner and marketer De Beers, along with government and other industry stakeholders, on Wednesday unveiled an enterprise development project for diamond beneficiators.
De Beers Sightholder Sales South Africa sales head Peter Moeti introduced the five historically disadvantaged South African- (HDSA-) owned diamond cutting and polishing companies that had been selected to participate in the three-year programme, namely Thoko's Diamonds, African Diamonds, Nungu Diamonds, Kwame Diamonds and Molefi Letsiki Diamond Holdings.
Moeti explained that the project aimed to facilitate the growth and transformation of the local diamond sector. He added that the success of the project depended on the support it was receiving from industry stakeholders, including national and provincial government, Anglo American Zimele and De Beers sightholders.
The project's HDSA participants would also receive assistance in their entrepreneurial development and "hands-on" support from business incubator specialist Raizcorp.
Moreover, De Beers would provide bespoke rough diamonds to the programme's participants, in addition to its rough diamond purchases on the local market.
"The additional supply will be granted for the period that the participants are part of the programme and, on completion, they will have an opportunity to apply as accredited buyers, before they ultimately are in a position to apply for sightholder status," he said.
Mineral Resources Deputy Minister Godfrey Oliphant and Gauteng Premier David Makhura both congratulated De Beers on "advancing the country's mineral resource beneficiation agenda".