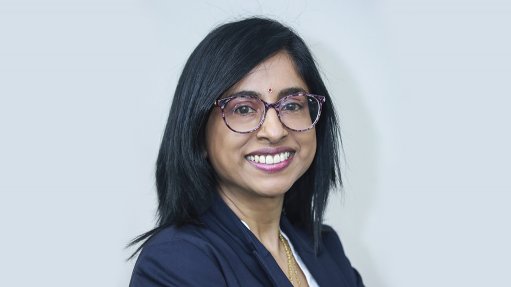 URISHANIE GOVENDER De Beers developed action plans per country of operation, with preventive protocols as well as emergency response plans and restart procedures
The De Beers Group's 'Put Safety First as our Number One Value' way of work – driven by management and mainstreamed into the operations – has led to numerous successes in terms of the holistic health and safety of its employees, and now forms the basis of its Covid-19 response, says De Beers sustainability head Dr Urishanie Govender.
"The work that we are doing with the Covid-19 Response Plan aligns fully to the structures and processes that were established to address fatal risk critical controls. We have done risk-based scenario planning that allows us to slow down and ramp up in a risk-controlled manner."
She cites the WeCare Programme which seeks to achieve sustainable behavioural changes, with De Beers upstream risk managementhead Ludwig von Maltitz, explaining that, as part of the Covid-19 response, the company has distributed a WeCare package, in line with one of the critical controls.
He says that instilling critical controls is one of the producer's five safety focus areas in its broader safety framework. Following a risk-based approach, nine critical controls have been established in response to the pandemic.
Von Maltitz notes that the first is Self-monitoring and Reporting, with the WeCare package comprising a personal thermometer, as well as information, and contact details for a control centre, which can be reached by SMS or voice call, should an employee display symptoms. The inclusion of a thermometer is owed to fever being one the leading indicators in determining whether a person could have contracted Covid-19.
Govender adds that the Engage mobile app can be used for self-reporting and communication purposes. Von Maltitz explains that this critical control facilitates the process of self-quarantine or further testing, if needed.
Secondly, there is Education and Awareness, with De Beers informing its employees and affected communities of the nature of the virus including its symptoms, means of transmission and what can be done to limit exposure, "really leveraging our health teams' knowledge base, discussing best practices and keeping employees informed".
Screening and Testing is the third critical control and is conducted at designated places prior to returning to work, at site entrances or at transport points depending on the type of screening and practicalities involved.
At these points, employees are screened –which involves questions relating to travel, the evaluation of general health and underlying health conditions, a second temperature check, and visual monitoring – to determine whether an employee should be allowed on site.
The first three critical controls form the basis of critical control number four which is to establish a sanitary cordon. It essentially ensures that the risk of exposure inside this cordon is materially mitigated. Isolation procedures and quarantine facilities are established at these points to ensure all employees and visitors are provided with the required assistance when identified as symptomatic.
Von Maltitz adds that critical controls five, six, seven and eight pertain to social distancing, general hygiene, "de-densification of workplaces" and respiratory protection.
Alcohol-based sanitisers and other washing materials, as well as mobile wash points will be made available. Where possible, shifts will be augmented to ensure maximum social distancing, and those employees who can work remotely, will do so. All employees will be provided with a mask or cloth face covering.
He adds that medical workers will receive N95 medical face masks given their role in evaluating potentially infected employees. Von Maltitz says that given the global shortage of these masks, it is essential to limit their use to healthcare workers. Frontline workers such as security staff and receptionists will receive FFP2-rated masks, as their level of public interaction necessitates a high level of protection. All other employees will receive cloth face masks, manufactured in line with best practice and government guidelines.
De Beers is also looking into the possibility of capacitating local businesses to manufacture cloth face masks, thereby assisting in protecting the broader community, as well as facilitating a crucial source of alternative revenue for local businesses.
Govender adds that this initiative would fall under De Beers' 'Building Forever Sustainability Framework', which places "thriving communities" as a key pillar to creating a sustainable positive legacy.
Further, aside from the mobile wash bays and screening processes at pick up points, Von Maltitz notes that staff transport buses are currently operating at 50% capacity, with the company looking to increase loading capacity to 70%, when government regulations permit.
Safe transportation of people to and from work has always been a key focus area for De Beers with stringent controls in place. To maintain its focus on the safety and wellbeing of people being transported, and at the same time mitigate the risk of Covid-19 exposure, De Beers is applying the combination of existing safety critical controls with additional Covid-19 controls to achieve the appropriate occupancy levels for bussing and other transportation.
The last critical control relates to isolation and contact tracing. Should an employee experience Covid-19 symptoms at work, De Beers has protocols to divert employee to an isolation point. Once there, medical professionals with appropriate protective equipment will determine the best course of action and transport will be arranged in a manner that reduces the risk of further transmission. De Beers will then determine who was in contact with the potentially infected employee and arrange for screening and evaluation.
Govender notes that De Beers has systematically developed site action plans per country of operation, with preventive protocols for all sites, as well as emergency response plans, care and maintenance plans and restart procedures.
The Venetia diamond mine is currently operating at about 80% production capacity and intends to ramp up in line with regulatory conditions. Operations in Namibia and Botswana were expected to restart in early May, while De Beer's Namibia-based marine vessels had remained operational during the lockdown period but would be amending shifts in line with social distancing and de-densification measures. This, despite the fact that the vessels are very remote, and that people are placed in 14-day quarantine prior to accessing a vessel.
The Canadian operation has also remained operational as it is extremely remote and is only accessible by aircraft, with Von Maltitz noting that very stringent controls have been implemented to continue operations, in line with government regulations.
"The safety and health of our people, followed by business continuity are at the forefront of our purpose to 'Make Life Brilliant' as we 'Pioneer into a New Diamond World'", says Govender, noting the overall success of the WeCare programme has demonstrated to staff that the group will act to safeguard their physical wellbeing, putting in good stead to address the current pandemic.