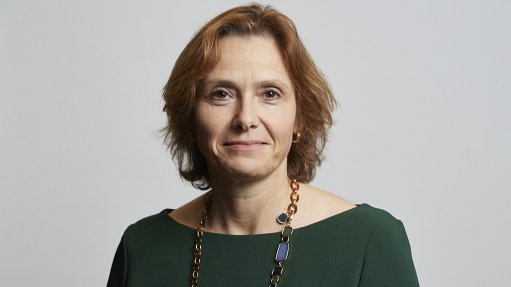 De Beers Group CFO Sarah Kuijlaars
JOHANNESBURG (miningweekly.com) – Global consumer demand for diamonds continued to recover from the impact of Covid, supported by fiscal stimulus in the US and the roll-out of vaccines, De Beers Group said on Thursday when it was credited with helping Anglo American to achieve an all-time record half-year, a period in which De Beers itself more than doubled group revenue.
Restrictions on international travel and entertainment over the course of the pandemic resulted in higher discretionary spending on luxury goods, including diamond jewellery, De Beers stated in a release to Mining Weekly.
De Beers' earnings before interest tax depreciation and amortisation (Ebitda) increased to $610-million compared with only $2-million in the corresponding six months period of 2020, broadly returning to 2019 levels. Unit costs were lower than in the first half of 2020 at $59/ct (30 June 2020: $62/ct), as the benefit of higher production was primarily offset by unfavourable exchange rates.
In the first six months of 2021, the diamond cutting centres achieved strong sales of polished diamonds in response to the ongoing recovery of consumer demand. However, the severe Covid wave in India during April and May reduced capacity at cutting and polishing operations within the key Indian midstream sector, which was further exacerbated by polished diamond grading backlogs in key markets. The relative shortage of polished supply contributed to a positive polished price trend in the first half of 2021.
Total De Beers revenue increased significantly to $2.9-billion compared with $1.2-billion in the corresponding six months of 2020 on rough diamond production increased by 37% to 15.4 million carats (30 June 2020: 11.3 million carats).
The recovery of demand in all parts of the pipeline enabled rough diamond producers to destock at the start of 2021.
This robust demand, combined with supply constraints arising from production challenges, created a favourable dynamic in the first half of 2021 that also supported higher rough diamond prices.
With rough diamond sales rising to $2.6-billion (30 June 2020: $1-billion), driven by robust rough diamond demand as the midstream pulled through stocks in response to the recovery in consumer demand, with rough diamond sales volumes significantly higher at 19.2 million carats, compared with 8.5-million carats in the corresponding period of last year.
The average realised price rose by 13% to $135/ct (30 June 2020: $119/ct), driven by a larger proportion of higher value rough diamonds. The closing price index was 14% above the opening index over the first six months of 2021, reflecting positive consumer demand for diamond jewellery as well as tightness in inventories across the diamond value chain.
Capital expenditure increased by 29% to $205 million (30 June 2020: $159 million), largely due to a reduction of sustaining projects during 2020 in response to Covid-19. The Venetia Underground and Jwaneng Cut-9 life-extension projects continued to progress and the new AMV3 vessel for Namibia remains on track for commissioning in 2022.
In an online interview, De Beers Group CFO Sarah Kuijlaars responded to these Mining Weekly questions:
What were the figures for this half-year versus those for the corresponding period of 2020?
De Beers had a really strong first half 2021. Total De Beers revenue increased significantly to $2.9-billion. You recall that this time last year was a really tough period for De Beers, but also for the whole diamond industry. You are well aware that there was very limited midstream demand and our Sights were really weak in the first half of last year. In comparison, we've seen very strong rebound this first half and our production is well up as well at 15.4 million carats, from the midstream all the way down to the downstream. It's great to see that the whole industry is in a much healthier position. Ebitda increased to $610-million for the half year, compared just $2-million for the same period last year. This was really driven by strong revenue growth, brought through by that production, and tight control of costs has allowed this to deliver a very strong Ebitda.
What is your comment on the unit cost position?
Costs have been tough. Operating in the Covid world is difficult. Our first priority is to keep people safe in the mines, day in and day out, so there's new Covid protocols that we put in place. The other thing that's worth highlighting is that unit costs are in dollars and the majority of our costs are in rands, so there has been some forex headwinds that have impacted costs.
What contributions were made by Botswana, South Africa and Namibia?
It was a tough start to the year. There were very heavy rains at the beginning of the year. It impacted particularly Botswana and South Africa. The operations had to respond to this but they responded very strongly, as they always do, and it's been great that the second quarter has been more straight forward on the production front, so we really played to that 15.4-million carats rough diamond production figure in the first half of this year.
How did Canada perform?
Gahcho Kué has also had its fair share of challenges and was actually shut down for 21 days earlier this year because of Covid. It's a long way to get to, so getting crews in and getting crews out in safe way is absolutely top of mind. But indeed, they have also contributed their fair share to that 15.4-million carats.
To what extent is global consumer demand for diamonds improving?
The diamond market really has bounced back. There's been a lot of pent up demand. But I think it has reiterated how important diamonds and diamond jewellery are to people. The emotional connection in celebrating jewellery. It is even more important in a post-pandemic world, and we see absolutely strong growth, particularly in US and China.
To what extent were this half-year's diamond prices up on the corresponding period of 2020?
Our price is at $135/ct this half year versus $119/ct last year. The average price index, although constant between this half and last year, is on a positive trend.
Is the strong recovery in consumer demand likely to continue?
We've all seen how quickly parts of the world have bounced back. Consumers are spending and spending confidently, which is great so see, and I think in the broader macro world, we strongly believe in the increase of the middle class in China and the US. It's a really robust sector and so we're confident that will continue.
What is it that makes genuine gem diamonds continue to sparkle and live up to the long-standing 'diamonds are forever' slogan?
There is always that emotional connection. Diamonds are chosen to celebrate moments of joy, special moments in people's lives, and I think that people are treating that as even more relevant in a post-pandemic world.