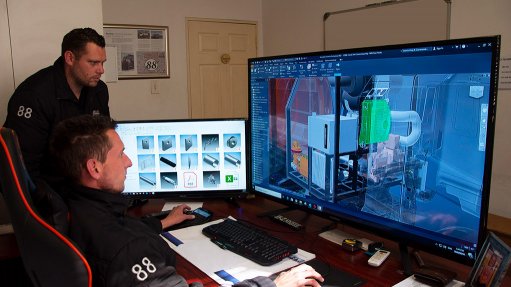 SUPER FLUID Werner Pumps units are fully customisable, and the company is always willing to adapt to customer requirements
Pumps manufacturer and supplier Werner Pumps offers custom-built high-pressure jetting trucks and vacuuming equipment to match customer requirements.
This, besides other factors, differentiates the company from its competition, says Werner Pumps MD Sebastian Werner.
He adds that the company's units are fully customisable, and Werner Pumps is always willing to adapt to customer requirements.
"For example, we offer fully electronic units, which means that the jetting or vacuuming operator can work with a wireless remote. The owner of the truck can then also see everything remotely, from how many hours the electric unit has worked to when maintenance is required. "That means it is easier to plan ahead, avoid downtime and ensure that trucks are always in tip-top condition."
Werner Pumps offers an in-house design service to facilitate the customisation process. Designers work on computer-aided design programmes to help customers visualise their unit as it is being designed.
With Werner Pumps' more than 30 years of experience, the team assists customers in creating what they need, with the company's designers also present at the company's factory to receive new customers.
"The customer meets our team and sees how we design and plan to build a unit. Any questions the customer might have are answered and we get customer sign-off on the designs before we start manufacturing. We run a production schedule that is updated on a regular basis so that if a customer wants to purchase a unit, the lead times and estimated date of completion can be discussed," explains Werner.
Once a unit is ordered, Werner Pumps keeps customers updated on the progress at regular intervals to assist in their planning. The company also has rental units available which customers can hire while they await delivery of their unit.
"We are constantly upgrading and fine-tuning our units to make sure that they always operate at maximum efficiency with as few problems as possible," says Werner.
He adds that every customer who orders a vehicle from the company, "gives us another opportunity to look at how we can manufacture the best truck possible".
This, he concludes, is supported by customer training and aftersales service, "and we hope that our customers see us as long- term business partners on which they can rely".