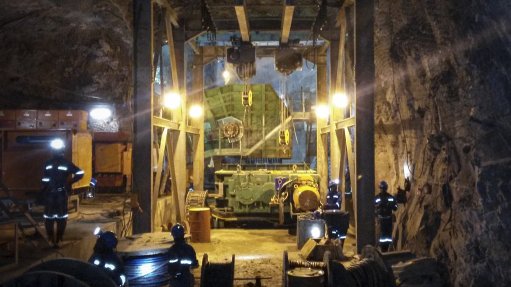 INNOVATIVE DESIGNS MMD is pairing equipment to produce innovative, custom-designed systems for underground copper mines
Designer and manufacturer of diversified mining processing equipment MMD Mineral Sizing Africa is designing customised underground sizing stations for underground copper mines in Zambia.
MMD has a proven record in Zambia, especially with regard to copper mining, and the company aims to expand and improve its presence in underground mining operations through the installation of additional ore-crushing machinery.
MMD director Janis Lombard explains that, rather than duplicating the crushing systems that Zambian mines have been using for years, the company intends to use alternative technology that is cost effective in terms of capital investment and operating expenditure.
MMD's machinery design generally entails the customised combination of mineral sizers with heavy-duty apron plate feeders. Using this combination, MMD can develop a sizing station that meets the exact requirements of the client. The systems can be designed to be modular and capable of relocation within the mine, should it be required.
The main feature of the sizing station is the robust sizer, which has proved successful in other underground copper operations in Zambia, the Democratic Republic of Congo and mines worldwide. The company's mineral sizers range from the smallest MMD 500 mineral sizer, which has a shaft centre distance of 500 mm, to an MMD 1500 mineral sizer, which has a shaft centre distance of 1 500 mm.
The MMD 1500 mineral sizer can handle feed rates of more than 10 000 t/h of material. By making use of a primary, secondary and tertiary sizer, the MMD equipment can size raw mining material up to 2 000 mm in size to a more manageable and conveyable size of down to less than –50 mm. The infeed and outfeed size of the material are dependent on the client's requirements as well as the type of ore to be sized.
"MMD's mineral sizer is perfectly suited for underground applications. What makes it so attractive is its relatively low vertical dimensions – it can fit into relatively small spaces, which, in turn, translates into less excavation requirements and subsequent cost savings for mines," Lombard points out.
The MMD D7 heavy-duty apron plate feeder regulates the feed to the mineral sizer and ensures a point of control for the system. It uses rolled flights, which MMD says are superior to the industry norm of casting flights, as they enable the feeder to absorb significantly higher impacts than conventional feeders and provide years of reliable service.
MMD's technology relies on smaller motors to drive the crushing system and features wear materials that ensure increased wear life on the teeth of the system. The excavation required to house the system is also considerably smaller than that required for competitor systems, with the self-contained technology relying on very little civil requirements. All of these elements, says MMD, result in significant cost savings for mines.