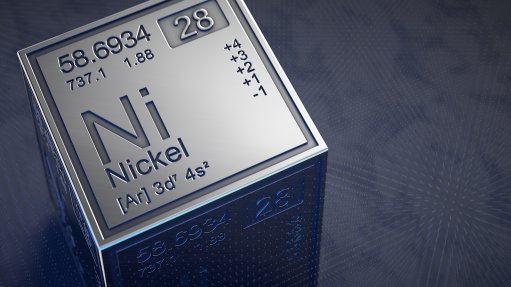 Name of the Project
Crawford nickel sulphide project.

Location
Timmins, in Ontario, Canada.

Project Owner/s
Canadian developer Canada Nickel Company.

Project Description
A preliminary economic assessment (PEA) on the Crawford project has confirmed its robust economics.

The PEA has demonstrated the potential to develop a phased conventional nickel sulphide concentrator producing nickel and magnetite concentrates.

Crawford will be a conventional openpit mine/mill operation, powered by zero-carbon electricity while using trolley trucks and electric rope shovels to minimise its carbon footprint through reduced diesel consumption.

Average production is estimated at 34 000 t/y nickel, with production peaking at 42 000 t/y. Production will include significant iron and chrome by-products of 860 000 t/y and 59 000 t/y respectively.

The process plant will use a conventional milling operation comprising crushing, grinding, desliming and flotation operations consistent with other ultramafic nickel operations. The process plant will be constructed in three phases.

Phase 1 will have a steady-state throughput of 42 500 t/d using a single 36 ft x 24 ft semiautonomous grinding mill and a 26.5 ft × 44 ft ball mill grinding circuit. Phase 2 will double throughput, starting in Year 4, by mirroring the first line. Phase 3 will raise production to the ultimate rate of 120 000 t/d through the addition of secondary crushing, a third ball mill and additional downstream capacity.

About 842 000 t of nickel, 21-million tonnes of iron and 1.5-million tonnes of chrome are expected to be produced over the project's 25-year mine life.

Potential Job Creation
Not stated.

Net Present Value/Internal Rate of Return
The project has an estimated after-tax net present value, at an 8% discount rate, of $1.2-billion and an internal rate of return of 16%.

Capital Expenditure
Phase 1 will cost about $1.19-billion, Phase 2 about $534-million and Phase 3 is estimated at $194-million.

Planned Start/End Date
Not stated.

Latest Developments
Canada Nickel has announced a $12-million bridge facility with Auramet International, allowing the company to remain well funded as it advances permitting and detailed engineering activities.
The feasibility study for Crawford will be announced later this month. A construction decision is expected by mid-2025.

Key Contracts, Suppliers and Consultants
Ausenco Engineering Canada (PEA).

Contact Details for Project Information
Canada Nickel Company, email info@canadanickel.com.