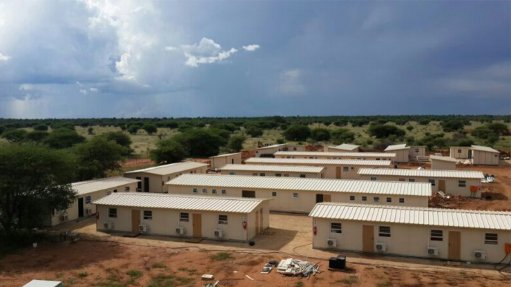 ATTRACTIVE SERVICE OFFERING Providers of modular building solutions need to offer cost-effective turnkey solutions that reduce downtime
Providing mining houses with cost-effective and reliable turnkey modular building solutions is crucial in South Africa's current economic environment, says modular building solutions provider Afripanel.
Afripanel contracts project manager Malcolm McGregor tells Mining Weekly that, "w
ith little new investment in the local mining industry, the uptake of new development projects and the growth of existing projects for mine-related accommodation have largely been stunted".
He states that decreased demand for modular building solutions is the biggest challenge for providers, who need to develop modular solutions that cater to the needs of mining operations while taking into account the volatile market that miners face.
McGregor says Afripanel aims to ensure that its modular building solutions are ideally suited to client requirements and are an affordable prefabricated solution that encourages mine-site development.
Afripanel achieves this by manufacturing custom modular buildings at its factory in Kempton Park, at which all units are individually designed and pre-manufactured. All modular solutions are supplied in kit form, ensuring that each building is flat-packed with the exact number of required individual parts and instructions to ensure ease of transportation and construction.
McGregor explains that the simplicity of the build-by-numbers prefabrication methodology ensures effortless installation by teams who need to follow only a provided step-by-step erection plan, subsequently reducing the time spent on site by installation teams. This results in notable savings for clients, as their project downtime is significantly reduced, he adds.
"Afripanel's numbered system is quick and efficient . . . if not the quickest system to construct in South Africa," claims McGregor.
The prefabricated solutions are also more energy efficient than traditional buildings, resulting in savings on heating and cooling systems.
McGregor adds that the use of efficient design methods and cost-effective material has enabled the company to develop a modular building solution that should help mitigate some of the economic pressure felt by local mining houses when developing mine infrastructure.
Into Africa
Despite mine site accommodation projects in South Africa having decreased significantly, Afripanel has noted an encouraging rise in demand for modular building solutions at mines throughout Africa.
"A large portion of Afripanel's current workload consists of mining project proposals," he outlines, "but the majority of the projects are north of South Africa's borders".
The company – which also provides modular building solutions for the Australian market – is handling several early-stage mine-site accommodation proposals for mining projects throughout Africa. Mines on the continent are looking for a range of solutions, including full turnkey camp facilities, worker accommodation, mess halls, clinics, recreation facilities and offices, he adds.
McGregor concludes that this spike in demand bodes well for the outlook of the continent's mining industry and modular building industry.