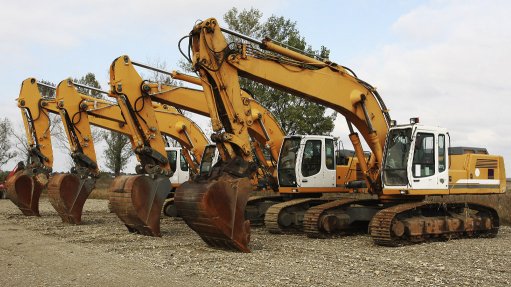 NOTHING TO QUARRY ABOUT Using the Almagard 3752 grease on equipment increases maintenance intervals allowing technicians to focus on other aspects of the quarry
The change in lubricants on brick manufacturer KuluCrete's excavator at its Port Shepstone quarry, in KwaZulu-Natal, has resulted in significant cost savings and a notable decrease in lubrication quantities and applications.
KuluCrete is a supplier of bricks, blocks, roof tiles, kerbing, pavers, river sand and crushed stone in southern KwaZulu-Natal and the Eastern Cape. The company uses a turbocharged, air-to-air after cooled hydraulic excavator at the quarry to remove raw materials and place them in crushers.
KuluCrete changed the lubrication on its Komatsu PC270 excavator from a standard extreme pressure (EP) 2 lubricant to Almagard 3752. Almagard 3752 is supplied by Fourways-based lubrication solutions provider Lubrication Engineers (LE).
KuluCrete had to replace the excavator pins every 250 hours when using the EP 2 lubricant. However, with Almagard 3752, the company no longer spends more than R10 000 every three months on the manufacturing of a new set of excavator pins.
Cutting down on replacement pins not only saves the company about R480 00/y, but every 10 kg of Almagard 3752 supplied lasts at least a full calendar year, whereas previous grease use on the pin sets amounted to 14 kg/m – or 140 kg in a ten-month cycle. This, in turn, saves KuluCrete more than R38 000 on lubricant purchasing costs.
KuluCrete workshop manager Clinton Stroebel had a new set of pins, with the Almagard 3752 applied, installed on the excavator, and the unit was returned to the quarry. With the Almagard 3752, the pin set remained scar free for about 1 000 work hours and was only replaced after 1 834 run hours, when slight scarring appeared.
Further, lubrication intervals on the pin sets have increased from a daily regrease to a weekly application and because the Almagard 3752 stays in the contact area, the regrease quantities have also decreased significantly.
"In all the years of struggling with the pin sets, we have eventually found a lubrication solution that works for us and that we will continue supporting," Stroebel notes.
The grease is designed to withstand harsh environments and heavy impacts. Notably, other EP greases use graphite as the base, whereas LE's trademarked additive base, Almasol, is the differentiator from any other heavy EP grease.
Unlike graphite – which is an additive that builds upon itself – Almasol is positively attracted to metal surfaces only, therefore it does not bind to itself in the molecular form, thus ensure that Almasol does not build on itself while in use.
Almasol solid wear-reducing additive is able to withstand extremely heavy loads, chemical attack and temperatures up to 1 038 ºC. It is attracted to metal surfaces, forming a microscopic layer but not building on itself or affecting clearances.
LE boasts that Almagard 3752 is its most popular EP grease and is distributed globally to cater to various industries. The machines to which the grease has been applied indicate a significant improvement in abilities. Almagard 3752's advantages are most notable on the pin and bush sets, jaw and cone crushers, U-joints and front axle arrangements on transportation trucks, wheel bearings and conveyor systems, says Lubrication Engineers national sales manager Llewellyn Owen.
He highlights that using the right lubricant for the application makes a significant difference on every front – from the way in which the lubricant needs to be applied and the required amount to how long the equipment in question lasts.
"Companies that operate plants in harsh conditions, such as quarrying and mining or cement and concrete production, should not underestimate the impact that choosing the correct product can have on equipment, production and budgets," concludes Owen.