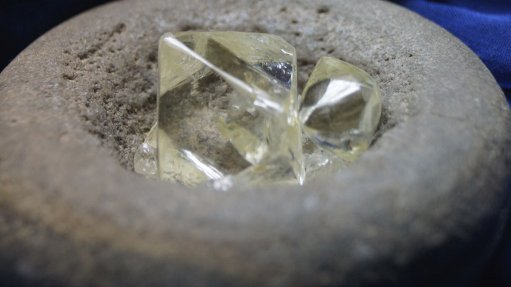 VALUABLE COMMODITY Riet river diamonds yield exceptional gemstone diamonds with prices averaging about $2 500/ct and grades ranging between 0.15 carats per hundred tonnes (cpht) and 0.35 cpht
Photo by: Steyn Diamante
The Middle Orange River (MOR) alluvial diamond deposits between Hopetown, Douglas and Prieska, as well as deposits along the Riet and Vaal rivers, in the Northern Cape, represent three unique sinks or repositories of high-quality gem diamonds, says independent diamond consultant Dr John Bristow.
The key to success in exploiting the MOR diamond deposits is to establish niche mining operations; focus on quality, high-interest gravel extraction and processing rather than pursuing a high-volume approach; keep it simple; and not establish large high-cost, high-overhead operations on the scale of diamond majors such as De Beers, he adds.
Bristow states that mining the MOR deposits requires establishing a conventional roll-over strip mining, near-surface, opencast quarrying-type operation, with the deepest gravel layers reaching a maximum of between 12 m and 15 m – the typical depth of a boxcut.
"A lean, mean structured diamond miner that can think on its feet and adapt operations to market conditions and the challenging geology is required to succeed."
Bristow highlights private diamond mining company Steyn Diamante as such a miner, but hastens to note that there are other successful operators in the Northern Cape, such as Dirk Fourie's Klipdam Diamond Mining Company, which is located near to the town of Barkly West.
Steyn Diamante owner Schalk Steyn moved to the Northern Cape in 2002, where he mined low-grade middling gravels for diamond mining companies, such as Trans Hex, and gained "invaluable experience" as he learned more about the local conditions and the most suitable equipment to use in diamond recovery.
He established the company in 2004 and has since mined several deposits – Brakfontein, De Kalk and Remhoogte 152, among others – along the left bank of the Orange river between Hopetown, Douglas and Prieska. He is currently mining along the Riet river closer to Kimberley. The terrace heights of these deposits vary between 20 m and 110 m and, once the topsoil and overburden have been stripped off and stockpiled for later rehabilitation, the gravel thicknesses are between 0.5 m and 6 m.
Bristow highlights that, while the Steyn Diamante operations are small to medium- size, the company's attention to detail, optimisation of earthmoving equipment and use of high-end technologies, such as bulk X-ray sorters, similar to the technologies used by large diamond mine operators like Petra Diamonds, is "outstanding".
Once the overburden has been removed, a mobile screen is placed in the pit, where it is fed using an excavator. The correctly sized material of –50 mm is loaded directly from the screen into an articulated dump truck for hauling to the processing plant. The oversized material is then moved from the screen by a front-end loader to form the base of areas to be rehabilitated. This is the most cost-effective screening method and also ensures that concurrent rehabilitation takes place, which limits future costs.
Bristow adds that Steyn Diamante has spent about R200-million to establish an ultramodern processing plant that has a run-of-mine capacity of about 200 000 t/m.
He believes that, while it is difficult for larger miners to cost-effectively exploit the MOR diamonds, operators like Steyn Diamante are leading the way in highlighting the possibilities that exist for small-scale, junior miners in the MOR region. These deposits are, however, among the highest risk to mine, owing to the ultralow and irregular grades. It takes a very special type of entrepreneur with a unique risk profile, coupled with years of experience, to be successful, says Bristow.
Valuable Gems
Geologist, diamond miner and Steyn Diamante projects consultant Lyndon de Meillon highlights that the MOR deposits are distinctive, owing to their location close to the confluence of three of South Africa's major diamond-bearing rivers: the Riet, Orange and Vaal.
"They produce some of the world's most spectacular diamonds and can be very profitable to mine, [goven] the right geological knowledge and mining, processing and recovery techniques."
He explains that each river has a unique population of diamonds, pointing out, for example, that the diamonds from the Orange river, before the confluence at Douglas, were derived from the kimberlites in Lesotho and have a high value per carat.
"The average value of diamonds for this stretch of the Orange river varies between $3 000/ct and $5 000/ct, with a high proportion of exceptional Type-II D flawless white stones. We also find very rare coloured diamonds, including pink, blue and yellow stones.
"I do not think that there is any other diamond deposit in the world that matches this quality, colour range and value," De Meillon points out.
The deposits between Hopetown and Douglas are characterised by ultralow grades ranging between 0.07 carats per hundred tons (cpht) and 0.2 cpht, while the area between Douglas and Prieska typically boasts higher grades of between 0.30 cpht and 1.5 cpht – a mixed diamond population that has been known to deliver single diamonds of up to 300 ct, he explains.
This diamond population is transported from multiple sources, including the Finsch, Kimberley, Koffiefontein and Lesotho kimberlites. The average value of these diamonds is $2 000/ct to $2 500/ct.
De Meillon says the Riet river deposits, in the vicinity of the Schutse Kama farm, also yield exceptional gemstone diamonds with a population of predominantly white stones, with prices averaging about $2 500/ct and grades ranging between 0.15 cpht and 0.35 cpht.
He has been researching the deposits and collecting data, along with Bristow, since 1997, and has built up a wealth of knowledge regarding these low-grade deposits, subsequently allowing for successful exploitation, particularly over the past five years.
This knowledge is crucial, as "no two terrace remnants are the same and distinct subtleties exist, which impact on grades, diamond populations, processing and financial returns," Bristow emphasises.
"Our practical research and projects have focused on how [best] to mine these low-grade deposits. Some areas have grades of 0.1 cpht, which is virtually nothing in terms of diamond tenor. We have developed geological techniques and skills that help us identify, rank and selectively mine large portions of the deposits by identifying where diamonds are most concentrated," De Meillon notes.
He adds that successful exploitation is correlated with carefully managed selective mining, rather than expansive high-volume scenarios. In future, lower-cost mining methods, improved screening and classifying, and replacing rotary pans and dense-media separation modules with high-volume mineral sorters and X-ray machines will dictate successful exploitation of the gem diamond populations from these gravel deposits.
Bristow highlights that the alluvial diamond sector presents opportunities for potential new entrants into the South African mining sector, as the capital expenditure requirements are substantially lower than for other mineral commodities. De Meillon remarks that, while the low-grade nature of these deposits presents challenges to mining, these can be addressed.
However, the two prospectors stress that the increasing burden of legislation in South Africa is negatively impacting on the profitability and successful exploitation of alluvial diamonds, to the point that there has been a sharp contraction in recent years, with a concomitant loss of jobs.
"Complying with all the mining legislation is becoming increasingly difficult. We are junior miners and small private operators . . . We don't have shareholders that can put money into the business if we get into trouble," Bristow explains. Layering on requirements which should be the domain of the province and central government should not fall to junior miners, he adds.
Bristow points out that most of the deposits are situated in relatively remote areas with little job opportunities for local communities. He laments that, as the rules for small mining concerns are essentially the same as those for large companies, the additional cost burden imposed on these small companies by South Africa's current mining legislation prohibits the development of many of these deposits.
"Until government understands the unique nature of these deposits and legislates accordingly, a significant mining resource and source of income for the country and, most significantly, a job creator will become increasingly challenged and will likely contract to the point of cessation with far-reaching negative consequences [for] local communities," Bristow warns.
He believes that, with greater support and flexibility from government and the creation of a more enabling environment, the local junior diamond mining sector could expand considerably, creating much-needed employment opportunities in rural communities.
De Meillon notes that attracting a skilled workforce to these deposits is also a challenge, as the sites are in remote areas, surrounded by small towns with few skills, poor education facilities and dismal social conditions. He remarks that a collective approach to addressing these challenges and closer collaboration between key stakeholders, along with the support of the community, as has been the case in the past, could play a key role in creating jobs in the sector.
"The only other jobs in the area are in farming, so we play a crucial role in creating much-needed [employment] in an area of severe economic hardship."
Despite alluvial diamond mining being an inherently high-risk business, De Meillon believes that there is "huge potential", as there are still areas with extensive alluvial gravels.
"To grow, what is urgently required is a more flexible approach to this sector that comprises private operators and junior miners, which will enable the operators to focus on their core skills and business in a responsible manner, mindful of health and safety, skills transfer and job creation," he concludes.