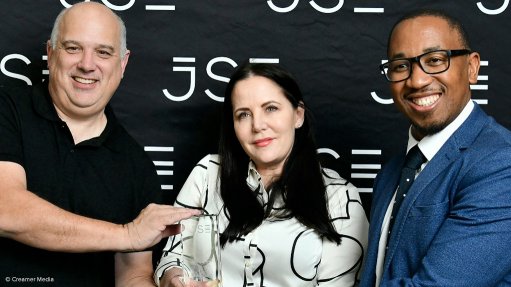 Copper 360 CEO Jan Nelson, Copper 360 chairperson Shirley Hayes and JSE Deals Head Samuel Mokorosi at the April listing.
Photo by: Creamer Media Chief Photographer Donna Slater
JOHANNESBURG (miningweekly.com) – Copper 360, which listed on the AltX of the Johannesburg Stock Exchange in April, has reported encouraging new drilling results.
The Copper 360 business is focused on processing historical mined copper rock dumps as well as mining surface and shallow copper resources, and its latest drilling results confirm copper intersections at the Rietberg copper mine, as well as the discovery, during a recent surface channel sampling campaign, of a new surface copper deposit at the Wheal Julia site.
"We've drilled a number of holes that have confirmed the historical database inherited from Newmont at our Rietberg mine and we've discovered a new copper deposit on surface with just incredible grades," Copper 360 CEO Jan Nelson told Mining Weekly in a Zoom interview. (Also watch attached Creamer Media video.)
The company has acquired, through SHiP Copper, an extensive database from companies such as American mining conglomerate Newmont and South Africa's Gold Fields, which worked the district before.
In addition, SHiP owns virtually 70% of the entire Northern Cape Copper Belt and has progressed all work past exploration stage.
Copper 360 produces copper metal through the mining and processing of copper rock and historic rock dumps, resulting in environmental clean-up, and will deploy a cluster mining model in its Northern Cape operation, updating predecessor Okiep Copper Company's high-yielding model.
"If we talk about the new discovery where we've just done surface sampling, we've got an average grade of 5% copper and values of up to 10% copper on surface, and we estimate that there's almost two-and-a-half to three-billion rands worth of copper sitting on surface just in this small area. But we will drill it in the next coming months and then we'll have a better idea," Nelson outlined to Mining Weekly.
How long will it take to start getting some value out of the newly discovered copper?
At the Rietberg mine, through SHiP we already have a mining licence. We will start mining from about August/September this year. There is already development in place and we will develop the orebody. But the first orebody we'll tackle is also shallow. It's about 10 m to 15 m below surface, so we'll also tackle it from surface, so that will be quick. In terms of the new discovery, that also falls within the mining licence area, which is great, and that will require an amendment to the mine's work programme, so probably about eight months before we can tackle that, but there we need to do more drilling so eight months, and then about another five months to get going at Rietberg, where we can mine immediately.
We've been confident about copper in the Northern Cape, but I didn't expect this sort of new find, so where does Copper 360 stand now in the copper world, do you think?
We're still small. We're gearing up towards the end of the year with the construction of our new plant. On an annual basis, for the next year, we'll do about 8 000 t of copper production for the year. The following year that will double to 16 000 t, still small. But if one of these openpits pan out, like we think it will, then in the next three years we can grow our production to 50 000 t of copper per year and then we become quite a mid-sized player and a bigger player in terms of the African context. The thing here that makes us a little different is that, although our tonnage is small, grades of 8% to 10% copper on surface are good, so then we'll produce quite significant numbers of copper.
High grades and close to surface, that sounds a good offering.
It's fantastic. As part of our rehabilitation activity, we're cleaning up the old rocks and processing that and when we clean up the site, the whole site is just green with copper. We sampled it and consistently there are values of 6%, 8%, 5%, 10% copper. Our chief operating officer, whose done a lot of work in Zambia, says he's not even seen these types of copper showings in Zambia, so this is fantastic. We've got a number of geophysical anomalies where we think there's more. It's a little bit early for us to talk but this is certainly fantastic new news, I think, for us and for South Africa.
Will you be doing more drilling or is this the end of your exploration?
We'll definitely be doing more drilling. We're more focused on mining, but when you've got a deposit on surface like this, and it doesn't require a lot of drilling, that's almost mine definition drilling, so that we'll do. We won't do grassroots exploration, but we know where the showings are. A bit of surface sampling and then you come in with a core drilling programme to define the orebody, then openpit design, and then you go, so that we'll do.
How much do you think this extends the life of operation there?
It's difficult for people to believe it, but what we have – because nobody is used to having copper in South Africa – we already have in excess of 100 years' worth of copper that we can mine, but this extends it to well over 200 years. But I think the plan here will be to target the high-grade deposits first. We expect the copper price to go up to the $10 000/t to $12 000 t levels next year. While the copper price is good, I think the plan here will be that we target the high-grade deposits first and make our shareholders a lot of money.
You also make copper plate. How's that going?
That's going very well. We're in the process of upgrading our plant. We're replacing our dams with thickeners and that will increase the recoveries from about 50% to 80%. We've just bought a new crushing mobile plant that arrived on site this morning, and that will increase our throughput from 30 000 t a month to 120 000 t a month. That will enable the plating to go up to about 150 t of copper by the end of the year, which is also very good, and then with the comp plant coming on line, they'll do about another 550 t of copper a month.
When it comes to funding, do you have enough to do everything?
Yes, definitely. We raised, you know we raised about R260-million when we listed and that will certainly see us through, in terms of our capital requirements, until the end of the year.
What has been the experience of Copper 360 so far as a listed entity on the AltX of the JSE?
Our share price has been quite volatile and two days after we listed, it shot up to R20, which was good but it's come down to I think the levels where the company is realistically valued. Although it's been volatile, we've seen quite a bit of liquidity in our share price, which is unusual for a junior of our size, so we're very happy with that. When the shares trade in and out that's good, so our experience has been a good one. The JSE has been good, the investor sentiment has been good, and in terms of the share price going up and down, my view has always been that we must focus on the operations and do the right things on the ground and if we do the share price will appreciate systematically over time. If you want to watch it every day, you're going to drive yourself mad, and that's not what we must do. But our experience has been fantastic and I can only commend the JSE. Listing on the JSE has been one of the best things we've ever done, and I think there's a resurgence in companies coming back to the market, to the Johannesburg Stock Exchange. There are a lot of retail shareholders that want to invest. You've got funds like Coronation that only invest in you if you're listed, so we've found it a very good experience, and it's not been a costly experience.
What are your medium-term and long-term aspirations for Copper 360?
The first priority in the short to medium term is to finish the construction of the concentrate plant, the upgrade of the SXEW plant and then we're also busy putting in place an alternative energy solution for the company that will take care of our energy needs, independent of Eskom, for the next three years. Those are the three priorities – the construction of the plant, upgrade of the other plant, and putting this renewable energy option in place. The plan is to get this all done by the end of the year, to the first quarter of next year, and then we'll focus after that on the next phase of expansion.
And how many megawatts of renewable energy do you need?
By the end of next year, we'll be at 10 MW and by the end of the following year, we'll need about 20 MW. We've got some very good solutions in the area that will take care of that. One will never go off Eskom, which is still pretty cheap. We understand the issues that Eskom has, so one can complain or we can stop complaining. We know the government's working on solving the Eskom issue. We just have to make sure that we put alternative measures in place for those times when we're down, and so we know we've got security of energy supply should Eskom move up to a higher stage of loadshedding. It's that combination of alternatives and getting the right mix going forward, without spending too much capital.
TARGETS TO BE TESTED TO DEPTH
Rietberg boreholes RB360-3 and RB360-4 intersected copper grades of 2.97% over 22.27m and 3.57% over 6.66m, and at Wheal Julia, on-surface oxide capping extended 150 m wide by 100 m long and open to depth.
Several targets of copper mineralisation confirmed by surface sampling is providing potential to develop open pit deposits. Drilling is planned within the coming months to test these targets to depth and prepare for open pit mine design.