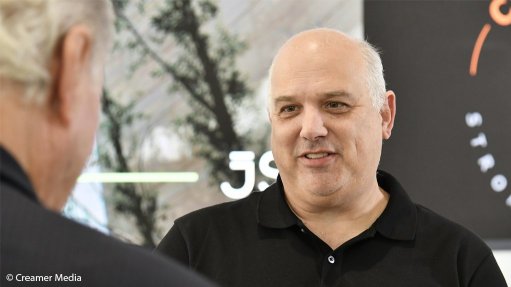 Copper 360 CEO Jan Nelson.
Photo by: Creamer Media Chief Photographer Donna Slater
JOHANNESBURG (miningweekly.com) – Copper company Copper 360, which listed on the AltX of the JSE in April, has more than two-million tonnes of copper at its 12 mines, which is worth R560-billion, the Junior Indaba heard this week.
That copper is shallow, on surface and predeveloped, an upbeat Copper 360 CEO Jan Nelson said in his presentation covered by Mining Weekly. (Also watch attached Creamer Media video.)
The Rietberg underground mine alone, which will be brought online by the end of the year, has 25 000 t of copper metal to mine, worth R1.4-billion.
The scramble for copper is on in South Africa and the Northern Cape is the main area of focus, amid a significant global copper shortfall.
Copper 360, chaired by Shirley Hayes, has 629-million shares in issue, a market capitalisation of R2.5-billion, and its share has experienced considerable liquidity to date, with 15% to 20% in free float.
As the only junior copper producer in South Africa, it has no peer group in the country. Its predeveloped resource is seen to be positioning the company for a capital expenditure and operational expenditure advantage over any new entrant, and the R260-million it has raised in South Africa is confirmed as being sufficient for current expansions.
Focus on simplicity, reliability, high margins and high returns were outlined by Nelson as being positives in its favour in not experiencing any capital raising problems in South Africa for the development of South African mineral assets.
In-house engineering capability plans, designs, pilots, and then scales up. Its investors appear to like that model, which generates cash flow fast and results in high margins.
What is also seen to give it advantage is its cluster mining model deployed over nearly 19 000 ha that hosts 12 mines and 60 prospects, which now have a collective 200-year life-of-mine following the latest drilling success.
It has a centralised modular plug-and-play processing facility at Nababeep and all the sources of ore that feed into it, as well as a solvent extraction and electrowinning (SXEW) facility that produces copper plate from rock sources left behind by Newmont and Gold Fields, companies that formerly mined in the area, which was once one of the world's major copper districts. Newmont developed an underground mine that goes down 2 km. There are more than 30 mines in a tectonic environment of large forgotten copper deposits.
"We're just picking that up, putting it through the plant, making copper plates, and then we neutralise our discard, pump it back into the underground holes and fill up all the old underground mines. So, from that perspective, we're also cleaning up the environment," Nelson pointed out.
"Our operations are green and clean and the rocks left behind there are some of the rocks we are processing, so no mining is required. This is all the rock that was left behind by Newmont and Gold Fields, running at between 1% and 5% copper.
"We've just discovered in our Wheal Julia openpit area we've got an area of 150 m by 100 m on surface running at an average grade of 5% copper, with 9%, 10% and 8% copper on surface.
"We've got a couple of these anomalies that we'll trace up and drill in the next coming months but this certainly will put South Africa back on the map as one of the major copper districts," added Nelson.
In the next 22 years, the world has to produce 700-million metric tonnes of copper, equivalent to the volume produced so far.
There just isn't going to be enough copper, so being able to produce copper is going to be of major strategic advantage.
The quantity of copper needed by renewables is increasing and critical is that by 2040, in terms of the European Union's target for battery electric vehicles (BEVs) and BEVs using about 85 kg of copper, the world will be needing about 42-million tons of copper.
The world is currently producing 20-million tonnes, and that's forecast to drop to 12-million tonnes.
Nelson summed up Copper 360's key value drivers as size and grade distribution of its copper.
Its engineering works is on site and it manufactures and builds most of any plant that it needs to build,and is currently building a concentrate plant.
The other advantage is the historical data inherited from Newmont and Gold Fields, including more than 3 000 geophysical maps, 6 000 m of drilling, predeveloped orebodies, all of which helps to put Copper 360 in a position to start mining immediately, using the area's skilled labour force.
Alternative power will be implemented in the next 12 months and the plan is to ramp up to more than 1 500 t of copper production in the next two quarters and close to 8 000 t of copper metal, generating revenue of R1.4-billion in 2024.
If some of the openpits come online, that production will rise sharply in 2025.
With BASF it has developed the first artificial intelligence software that runs SXEW plants, and diamond mining company Ekapa has introduced precrushing technology to upgrade the ore and process less waste through the plant.
"We're in production, we're cash-flow positive, we're growing to about 650 t of copper a month by the end of the year.
"Our capital cost is less than R260 000 a month for this growth, but again that's a function of the shallow orebodies and the high grade.
"Return on capital is less than 24 months, and we're producing copper when we mine underground at an all-in sustaining cost of less than $4 500/t.
"In South Africa, we have some of the most significant orebodies in the world, the best financiers, a fantastic banking system and infrastructure.
"We've got secured offtake agreements and we have significant growth coming," was how Nelson summed up his presentation.