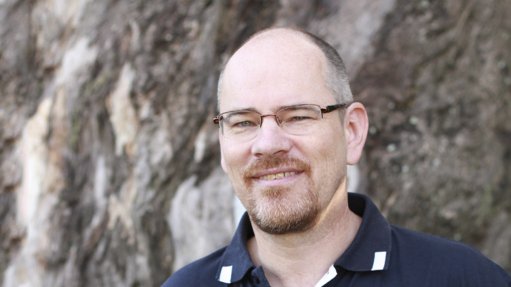 JEREMY WITELY South African PGM producers are caught between a rock and a hard place because of capital and low share prices, causing their debt to rise
Owing to the lower overall platinum- group metals (PGMs) price, platinum producers have started to review opportunities to work together through joint ventures.
"It is important to understand that, with PGM mining, it is not only platinum that is being mined but also other metals such as palladium, rhodium and ruthenium. These elements remain less valuable than platinum, making the basket price of PGMs significantly less than that of gold at the equivalent grade, for instance," states local mining consultancy The MSA Group principal mineral resource consultant Jeremy Witley.
Platinum traded at $1 150.10/oz last month, with gold retaining a price of $1 341.27/oz.
He explains that, previously, all the major platinum companies operated with little cooperation, as the industry was more competitive. Now, however, there is more cooperation to save overheads.
"I subsequently believe that more collaboration can create better opportunities for companies to enhance the industry. Common sense and discussion between companies will help the industry survive," Witley stresses.
South African PGM producers are caught between a rock and a hard place as a lack of access to capital and low share prices are threatening their ability to raise the funds required to optimally develop their deposits.
Witley says factors such as labour disputes, overproduction and a saturated market are hindering the growth of the PGMs sector in South Africa, whose Bushveld Complex hosts about 70% of the world's known platinum resources.
"PGMs mining in South Africa is struggling, as many mines have reported a lack of access to capital. Such mines retain a large employee base and, with the cost increase of this labour being well above the inflation rate, the revenue generated from platinum mining does not keep up."
He adds that safety has also become a quagmire for platinum companies, as they employ labour-intensive mining methods, often in hazardous environments, explaining that the consequences of these incidents can substantially delay operations, owing mainly to the enforcement of a Section 54 stoppage under the Mine Health and Safety Act, No 29 of 1996.
"Accidents remain prominent in the platinum industry and cause a subsequent decline in production, as shafts are closed for the duration of the Department of Mineral Resources' (DMR's) investigation in line with the Section 54 stoppage. Should the DMR find that training could be a solution to curb future accidents, it will require the workforce to undergo training on the company's account, resulting in longer production delays."
Last year, 22 mineworkers in the platinum sector lost their lives on duty, while platinum companies, such as Impala Platinum and Anglo American Platinum (Amplats), have had fatalities this year.
Trade union Solidarity, reporting on preliminary DMR statistics, notes that there have been 55 deaths in the mining industry in the first half of 2016 with 31% of these deaths occurring in platinum mines.
Solidarity's head of occupational health and safety Paul Mardon notes that this leaves mines in South Africa at a crossroads.
"Both the economic challenges and challenges in terms of health and safety have brought the mining industry to a crossroads and new and innovative thinking is needed to ensure the sustainability of the industry," he states.
Further, Witley believes that the current uncertainty regarding the Minerals and Petroleum Resources Development Amendment Bill has, to an extent, driven foreign investment away from PGMs mines in South Africa. He adds that, while the business models of the country's platinum producers remain profitable and viable, as they have the necessary shaft infrastructure and mineable orebodies, and added restructuring of operations has also helped to cut costs, they are still not able to maintain previous income levels.
"Companies can calculate the impact of certain risks and incorporate the cost into their investment spend, but lingering uncertainty, especially with regard to legislation, cannot be quantified. "While companies, such as platinum producer Lonmin, do operate at a profit, the encompassing debt continues to consume its finances. Platinum mines remain sound, but it is external factors, like debt and legislation, that influence their sustainable operation."
Witley maintains that should the pricing environment improve, which has been influenced by factors such as the fluctuating exchange rate, PGM producers could work their way out of financial trouble.
Platinum prices reached a high of close to $1 800/oz in mid-2011, but have been in decline since. "With the stronger rand:dollar exchange rate of R14.26 and the current platinum price, there is only so much cost cutting and restructuring mines can do before they start to feel the pinch of the low commodity price," Whitley states.
He tells Mining Weekly that alternative markets for PGMs, such as jewellery and the use of PGMs in the automotive industry, also remain stressed.
"The jewellery market fluctuates along with the overall platinum price. When the price is high, people refrain from buying platinum jewellery. "The holy grail of PGMs remains fuel cells, which require large amounts of platinum to produce and operate efficiently; however, the trend in the automotive industry is leaning towards using lithium-ion battery technology, which has become more reliable."
Witley notes that battery technology for vehicles remains less expensive to produce and consumers are wary of fuel cell vehicles, as they require a tank of highly combustible hydrogen gas to power a vehicle.
"It seems as if the automotive industry is moving away from developing fuel cell electric vehicles (EVs) and retaining focus on battery- operated [EVs], which need much less platinum."
Mining Practices
Witley notes that, while PGMs mining remains highly reliant on labour, companies are considering shifting towards implementing greater mechanisation at their operations as they follow the "mechanise where we can" ideal.
"If the reef or orebody is wide enough and not complicated, companies will opt to use machines rather than labour. Lonmin, for one, reverted to a more mechanised policy, but when economic times got tough in 2008, they had to revert back to conventional, labour-orientated mining techniques, as it was less expensive to maintain," he avers.
However, Witley believes that labour-intensive mining does not have a very bright future, as the cost of labour in South Africa continues to rise exponentially.
"Some platinum shafts have a life expectancy of about 20 years and I can't believe that, during that time, we will still send as many mineworkers down the shafts as we are now. "Added to that, if labour costs continue to rise as they do, companies will do the math and realise that maintaining a larger workforce is not economically sustainable."