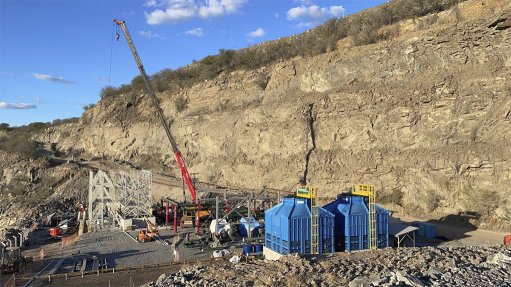 COOL OFF Bulk air coolers are used to chill large quantities of air to cool the working areas underground, thereby improving working conditions
The Pilar mine at the Caraiba mining complex in north-eastern Bahia, Brazil, will soon own a turnkey, "high-tech, safe and efficient" underground mine cooling system, supplied by air and gas handling equipment supplier Howden.
The complex, owned and operated by base metals mining company Ero Copper, is located about 385 km north-north-west of the capital city of Salvador.
The bulk air coolers were provided by thermal solutions provider Industrial Water Cooling (IWC) in September.
"Phase 1 of this project has been completed and the construction of Phase 2 is in progress. This should be completed and commissioned in January next year," says IWC MD Roger Rusch.
He explains that air coolers can differ, depending on the climate and ambient temperature of the areas in which they are installed. This can impact on the size of the coolers used in various sections of the mine.
Bulk air coolers are used to chill large quantities of air to cool the working areas underground, thereby improving working conditions, which are often unpleasant, owing to the hot and humid environment.
The use of bulk air coolers in this environment reduces worker fatigue, resulting in increased safety and production.
The coolers provided for this project are single-stage, induced-draught, counterflow units, in which chilled water is brought into direct contact with ambient air stream. A directly driven variable-speed axial fan, mounted on the shaft collar, draws the hot ambient air through the air cooler and delivers the chilled air to the mine's ventilation shaft.
The air coolers provided for Phase 1 of the project are designed to reduce the ambient air temperature from 34 ºC to 8.4 ºC.
The bulk air coolers will be erected above the ventilation shaft and the structure is made from fire-retardant pultruded, which is a fibre-reinforced polymer material, selected for its corrosion resistance and ability to withstand harsh weather.
"The units used for this project are installed above ground, which means that conventional construction methods are used. The location of the site, and the efforts to reduce shipping costs, have resulted in manageable construction time and site erection costs. Additionally, a fibreglass superstructure has been used to install these units," explains Rusch.
The bulk air cooler is packed with trickle pack fill, which has been selected for its thermal efficiency, while it is also clogging-resistant when used in dirty-water applications. This provides many years of serviceability when the air cooler is operated in the dusty conditions at mine sites.
Moreover, the equipment and materials selected for use in the air coolers are such that, other than periodic visual inspection, little to no maintenance is required. This makes the IWC bulk air cooler ideal for remote mine applications, notes Rusch.
"IWC has demonstrated that our field-erected bulk air cooler package is a viable solution that can be quickly implemented, even in remote areas."
Compared with other technologies, such as spray chambers and construction materials (reinforced concrete), IWC's bulk air coolers are a cost-effective and thermally efficient solution, which requires limited space and minimal power consumption.
"Our solution is tailored to fit over existing vent shafts and can, within reason, be engineered to work within the constraints of existing mine ventilation systems," he concludes.