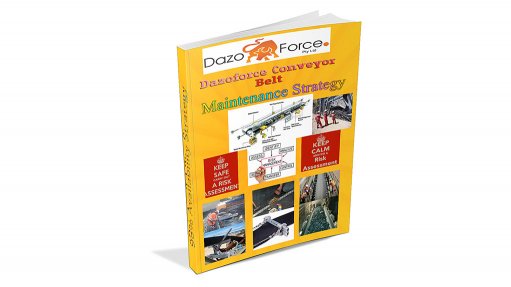 MAINTENANCE STRATEGIES Dazoforce developed a three-volume series of conveyor belt maintenance reference books
Conveyor belt downtime is often taken lightly by belt experts, shift bosses and foremen, despite the potential harm it can cause to a company's production and bottom line, says mining consultation, conveyor belts and underground machinery maintenance company Dazoforce Mining & Construction CEO Mziwethemba Mtshazo.

He tells Mining Weekly that one of the foremost factors in dramatically increasing conveyor belt wear and tear over time is belt slip, even though the conveyor belt might not appear to be worn out at first glance.

Worn or damaged rollers are destructive to conveyor belts, as they can tear a belt or cause it to spill the material being processed, Mtshazo notes.

He adds that damaged rollers cause the drive head to use more power, thus increasing electricity costs. "It also puts a lot of stress on the pulleys and power packs, causing unnecessary downtime and reducing bearing life."

Damaged rollers can also cause the conveyor belt to hook up and pull wires, causing it to stop – resulting in a significant amount of time being spent on resetting the conveyor process, Mtshazo explains.

He adds that most people incorrectly assume that simply aligning the rollers can keep the conveyor belt running for additional shifts. "However, it is not as simple as just moving rollers backwards or forward – it is about what causes the belt to misalign."

Miners must install rollers that are tested for free movement and they must also pay close attention to their materials handling processes, in addition to ensuring that their materials handling team is properly trained in the handling of all conveyor belt materials, Mtshazo advises.

Maintenance
Mtshazo tells Mining Weekly that, to ensure regular conveyor belt inspections, Dazoforce uses a checklist that covers all the conveyor belts in an operation and also outlines the inspection intervals.

"We mark every roller, troughing frame, stringer pipe and H frame, which get inspected by our experienced team. The inspection list is then given to our admin- istration and mine planning departments for record keeping."

He says all conveyor belts are inspected daily to avoid surprises, prevent breakdowns and identify any weak spots during inspections.

Mtshazo says Dazoforce's record-keeping system is arranged in such a way that responsible staff are aware of every component that has been changed and when it was installed.

"If we change a roller, we know exactly which roller was changed, the number of the roller and whether it was a top, right, centre, left or bottom roller," he says, adding that the team also knows how many times the roller has been changed and how long it has been in use.

This information can also help to ease any concerns a miner might have regarding the substandard manufacture of a roller, says Mtshazo.

He says it is also important for a miner to learn from recurring breakdowns; however, production demands often require quick fixes to get the line moving again as quickly as possible.

"Having to replace the same conveyor idlers in the same position, for example, should be an alert that there is a problem," Mtshazo notes, adding that failing to solve the problem will result in more downtime, additional costs and employee frustration.

Book Back-Up
Mtshazo tells Mining Weekly that Dazoforce compiled a three-volume series of conveyor belt maintenance reference books at the beginning of this year to ensure that its conveyor belt maintenance strategies are relevant to clients.

The series, titled Dazoforce Conveyor Belt Maintenance Strategy, was developed from the company's researched data. Mtshazo says the books are not for sale, but are used to train company staff on the latest conveyor belt maintenance requirements.

He adds that the books have inspection lists that cover all the components of conveyor belts and also contain a fault- finding template.

The company's conveyor maintenance strategies outlined in the books cover topics such as cost reduction, damage reduction, conveyor belt availability and asset life.