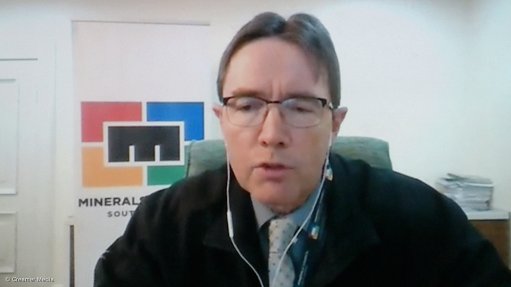 Minerals Council South Africa CEO Roger Baxter
Photo by: Creamer Media
JOHANNESBURG (miningweekly.com) ­– The conversation has begun on getting the South African economy back on track with the necessary structural reforms post-Covid, Minerals Council South Africa CEO Roger Baxter said on Wednesday.
Speaking at question time during a virtual media conference following the council's annual general meeting, Baxter said that Covid-19 was acting as a catalyst to get things done quicker. (Also watch attached Creamer Media video.)
As much as the mining industry had been dealing with the Covid-19 black swan event, Baxter said it had also been engaging with government on how to get the post Covid-19 economy and the mining sector back on track, as well as the structural reforms that had to go with it.
"We've already started that conversation with Mineral Resources and Energy Minister Gwede Mantashe, and with President Cyril Ramaphosa, in a discussion that we had with him last week, about how we get this economy back on track with the kinds of structural reforms required," said Baxter.
"At a fiscal policy level, government is not cutting its jacket according to the cloth available. State-owned enterprise are consuming too many resources of government and of the taxpayer and not delivering effective services.
"Structural reforms are also about introducing private participation and competition. With energy, we already have an agreement with Minister Mantashe, for example, in terms of bringing in private power generation for own use. There is now much greater urgency because we need to get the economy back on track, and that includes mining.
"In the mining conversation, we've been engaging with Minister Mantashe on the key reforms that may be necessary to also enable mining to prosper, but those are very linked to the national country reforms relating to infrastructure.
"The level of engagement that has taken place between ourselves and entities like Transnet and Eskom has been remarkably notched up. That's because their businesses rely on us and we rely on them. Eskom and the industry are joined at the hip. The failure of Eskom is our failure and if we fail, Eskom fails. So collaboration and working together, but also allowing structural reforms is going to be key," said Baxter.
After the financial crisis of 2008, South Africa's economy slumped to an average of 1.5% a year for a decade, compared with an average growth rate of just over 4% for other emerging economies, which recovered a lot quicker than the inflexible South African economy.
The structural rigidities in place make it extremely difficult, Baxter said, to attain the required levels of innovation and competition and get the right technologies into play in different market sectors.
"Mining is not one of those sectors that's been rigid but we have been affected by the fact that we haven't been able to access reliable cost-competitive services in rail, ports and others, unless they are privately run or unless there are really good relationships that exist with Transnet.
"But the point is if you had private concessionaires working on some of those lines, and if you had a lot more private sector generation competing with Eskom and an independent system market operator running the electricity transmission network, those would be significant game changers," Baxter said.
Re-elected Minerals Council chairperson Mxolisi Mgojo said the conversation that business was having with government at this stage was the need for the country to work collectively to come up with a new Marshall Plan for the country, which is something the President himself says is going to be required.
"It's the President's invitation to all of us that we have to think differently about how we're going to work together going forward. We need to come up with a new social compact where, as critical stakeholders, we're going to re-imagine what the new economy that needs to be created will look like, because post-Covid is going to look so very different to pre-Covid. We have to collaborate and work together. The key critical stakeholders need each other because this is our collective problem," Mgojo said.
EXPLORATION NEGLECTED
The last time South Africa's high-level geophysical mapping was done was at a 50 000:1 resolution in the 1970s.
"We're probably only sitting at about 10% in total that's sitting at a high resolution level, Baxter said.
South Africa last year attracted 0.1% of the global exploration spend on greenfield exploration expenditure.
"We should be at least 3% to 5% of global exploration spend and we're not because there are a number of obstacles in place that prevent that from taking place.
"I think this is the time and the place to have that conversation. I'm a great believer that the Covid-19 crisis, in pushing us and acting as a catalyst, is taking us to a point where either we have those real conversations about what's going to be different, or it's going to be more of the same, and more of the same isn't going to be tenable from a long-term economic sustainability point of view.
"We've got some very capable people that are looking at these issues and we've shared some ideas and we need to get things going," Baxter said during the media conference in which Mining Weekly took part.
IMPACT OF LOCKDOWN ON PRODUCTION
The impact of the lockdown on overall mining production could be 6% to 10% for the full year, given that coal mines and opencast mines have been operating throughout the lockdown, which has had some compensation effect from the rand exchange rate, which has weakened by more than 20% during the Covid-19 period.
"We've been in regular contact with most of the labour unions but not all of them, talking about the different issues. I have been in contact with the president of AMCU over the last couple of days and I've chatted to the presidents or secretary generals of all other trade unions, bar one, with which we're still engaging.
"This is not about competition. This is about us being effective as a collaborative in the way that we manage Covid-19. That's not to say that different sets of the unions don't have particular concerns that they've raised but we think that the directive issued by the chief inspector of mines, which was built on the foundation of our standard operating procedures, are working well and are pretty comprehensive," said Baxter.
On the Covid standing operating procedures of the industry and the Covid code of practice demanded by the government, he said: "There's significant overlap between the directives that were given last week by the chief inspector of mines and our standard operating procedures. In fact, in our view, it wasn't necessary for this issue to go into a court process. It could have easily been solved through ongoing engagement between the different stakeholders but that's water under the bridge.
"We're implementing the directives that have been issued and they are 99% similar to what we have done. We've just updated our standard operating procedures to incorporate any of the additional things that came out of the code of practice, so there's not much difference between the two. Nothing that we're worried about or that we're clashing about at this stage," he added in response to Mining Weekly.