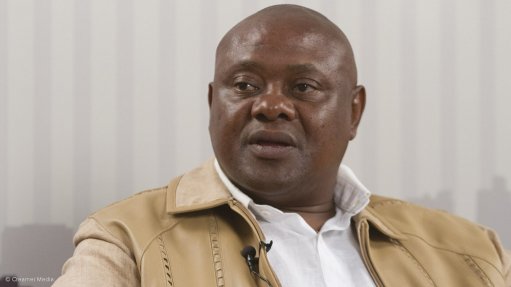 FIKILE MASHININI Ncamiso Mining's outsourcing services facilitate job creation and the eradication of illegal miners in some of the communities in which it operates
Photo by: Duane Daws
Although tailings retreatment is not new to South Africa, the country's mine dumps, especially those of the gold mining sector, still hold immeasurable value that could increase the profitability of mining projects for clients and contractors, says materials handling and hauling expert Ncamiso Mining.
Owing to the depressed mining market, companies should be looking to tailings retreatment to derive value from projects while keeping costs low, adds Ncamiso Mining MD Fikile Mashinini.
"We currently deliver more than 10 000 m3 of gold-bearing material a week for reprocessing, as we facilitate the extraction of extra gold in a more sustainable and less invasive manner by cleaning up operations and rehabilitating the project," he says.
Owing to the large number of gold min- ing projects under way throughout South Africa, there are many dump sites that pre- sent the opportunity to separate untapped gold from excavated material, emphasises Mashinini.
He says mining companies are not always aware of the gold-bearing material at mine dumps and its value. Ncamiso Mining approaches these companies to inform them of the gold-bearing material and the options available to rehabilitate their sites while deriving value from tailings retreatment.
"The old exiting dumps have potential for tailings retreatment. We want to focus on those dumps to truly maximise the full potential gold yielding value before the aggregates are sterilised and crushed for use in roads and building, among others," Mashinini explains.
The company excavates and transports about one-million tons of raw material a year in the South African mining industry, he notes and Ncamiso Mining continues to focus on providing outsourced mining services. These include the removal of surface material, crushing and screening for gold in surface aggregate and dumps, vamping to recover higher-grade ore left in mined stopes underground and the rehabilitation of gold mines.
Mashinini asserts that the company's outsourcing services also facilitate job creation and the eradication of illegal miners in some of the communities in which it operates.
"As part of our corporate social responsi- bility, we employ members of the community as reef pickers. We normally employ about 200 reef pickers and, although it costs the company more money, it feeds the families of these temporary employees for the dura- tion of their contract," he highlights.
Mashinini emphasises that the company's vision involves profitability, but more so innovation, job creation and sustainability, adding that Ncamiso Mining also partici- pates in joint ventures with mining com- panies when they are unable to complete projects or rehabilitate mined areas.
Thus, Ncamiso Mining buys into the mining company, enabling the project to continue, subsequently, benefiting the mine and the company.
Challenges
Mashinini explains that providing outsourced services for tailings retreatment is a difficult task, owing to mining companies not always wanting to use outside expertise, as it might seem more costly, or preferring to focus on unmined, rather than excavated, material.
Further, he notes that companies might at times prefer not to enter into fixed contracts with Ncamiso Mining. This could result in a company having to stop opera- tions halfway, owing to another company buying the site upon the discovery of gold-bearing material.
"Being outsourced, we have to disclose materials that could add value to a mining company, as well as our company . . . as a result, it may take back its operations, lead- ing to a lack of income [for Ncamiso Mining], as our contract is ended prematurely," he highlights.
Mashinini says another challenge is that as mining operations progress, companies need to mine deeper, resulting in grades deteriorating. Therefore, mining companies need to adjust to screening and transporting more material to derive consistent value.
Technological Advancements
Mashinini illustrates that, being a small- scale company, it is important to call on previous successes when servicing new mines, whereby proven plans are applied, but tailored to meet a company's specific needs.
Further, he points out that it is important to remain relevant by using the latest tech- nologies available to the industry.
"However, before implementing new technologies, a feasibility study needs to be undertaken to justify whether these technologies are viable solutions for a client, or if the old methods are still efficient options," he comments.
Mashinini adds that Ncamiso Mining is looking at the X-ray fluorescent machine, which is currently used in countries like Canada, to distinguish the company from its competitors by improving gold yield in a faster and more efficient way. The machine uses X-ray technology to identify whether excavated mining material bears gold.
"Seeking opportunities to provide specific or novel services for a niche market gives outsourced mining companies a better chance of being contracted," he concludes.