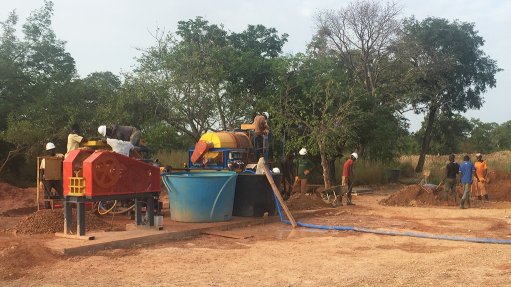 TRIAL RUN One of many sample plants set up in Mali has revealed the great potential the gold mining sector holds in the country
West Africa holds notable mining potential, with exploration and mining consulting services provider The MSA Group principal consultant Mike Robertson noting the company's short- to medium-term goal of expanding further into the jurisdiction.
"MSA sees West Africa as an increasingly appealing destination for the provision of services with a strategy to increase our footprint in the region."
Robertson points out that MSA's strategy for operating in the region requires identifying and engaging with suitable partners, and the upskilling of local human resources.
"We see partnerships with local companies and individuals and the concurrent transfer of skills and knowledge to them as necessary to enable the execution of our work and to strengthen our relationships with government, local authorities and communities.
"West Africa is regarded as the current global hotspot for gold exploration and mine development, with 74% of all exploration projects focused on gold," Robertson explains.
Further, in the past decade, 30% of global gold discoveries have been made in West Africa. The region has a "phenomenal discovery rate" and a strong record of seeing projects through the exploration mining life cycle, from discovery to production, since the early days of Randgold Resources gold exploration, since merged with Barrick Gold, Robertson explains.
It has the highest gold growth-rate in the world, with more than 250-million new gold ounces in mineral resources and 110-million ounces in reserves generated in the last 25 years.
Most of the more than 40 mines that have come on-stream during the past 25 years are exploiting shallow openpit oxide resources, with the upside underground potential still to be adequately assessed.
South Africa was the largest gold producer in Africa up until 2017, but West Africa's gold mining industry, led by Ghana, Mali and Burkina Faso, now produces nearly twice as much gold as South Africa.
While West Africa remains highly prospective, the availability and detail of base geoscientific data is not consistent across the area, with MSA consultants involved in various regional and countrywide donor and government-funded mapping and sampling programmes in West Africa.
It looks forward to similar projects being launched in the near future, in countries such as Mali and Sierra Leone. These programmes are designed to encourage investment in the mining industries of these countries by providing high-quality geoscientific data that helps to derisk early stage mineral exploration.
Robertson points out that the rise in the gold price over the past three to four months has spurred an increase in gold exploration activity, accompanied by a "substantial number" of mergers and acquisitions.
Meanwhile, the junior exploration sector as a whole has done well in the first half of 2020, with increasing market support and investors taking an interest in exploration stocks, he adds.
"This is further evidenced by the number of 'capital raisings' in the junior exploration sector, such as exploration firm Mako Gold, minerals exploration company Arrow Minerals, and mine developer African Gold Group, with projects in Côte d'Ivoire, Burkina Faso and Mali respectively.
"
Further, numerous quality projects and successes in West Africa make it easier to raise capital, notes Robertson.
However, much of the region can still be considered "immature" in terms of gold exploration, as it has "untapped gold potential" with many areas being underexplored, says Robertson.
He stresses that "it is still early days in West Arica" and that significant discoveries are still being made.
Covid-19 Comeback
"The most significant impact of Covid-19 on MSA has been the inability to travel to its project sites outside of South Africa," says Robertson.
M
ost of MSA's South Africa-based staff have been working from home, with an emphasis on providing solutions for clients through desktop work and technical reviews.
MSA has, however, largely managed to continue offering on-site consulting services through its large international network of associate consultants and partners, many of whom are resident in the host country of the project.
International travel restrictions have also impacted on exploration and mining companies operating in West Africa, and mobilising of expatriate management to their projects has been hampered.
For most of these companies, however, the presence of technically competent and trusted local teams that can operate independently on the ground has enabled them to successfully continue their projects.
Robertson also points out that other positives resulting from Covid-19 include increased cooperation within the industry.
Some of the benefits realised through this cooperation include empowering locally trained personnel through their being required to take on greater responsibility, the fast-tracking and uptake of technology and digitalisation, the donation of medical supplies and information sharing regarding the benefits of physical distancing and hygiene, as well as keeping host communities involved.
The West African industry has been quite resilient and continues to show positive trends in 2020, Robertson concludes.