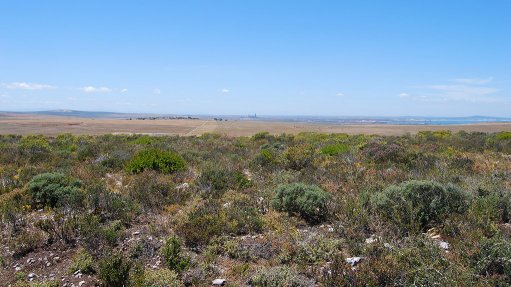 QUARRYING FAVOUR To mine limestone in the ecologically sensitive Saldanha Vredenburg area, AfriSam is placing more than 150 ha of this property into environmental status
With a high carbon footprint characterising the global cement industry, supplier of construction materials and technical solutions AfriSam is continuously advancing sustainable practices to reduce carbon dioxide (CO2) emissions in mining operations and cement manufacturing processes, and has recently implemented a new initiative.
AfriSam environmental specialist Nivashni Govender details that last year the company developed Biodiversity Management Plans for all its mining operations. Believed to be an industry first, the plan entails AfriSam conducting verification and site investigations on every quarry to determine and quantify the environmental impact of the company's mining operations on the flora and fauna. These investigations further establish which areas require protection and conservation, with the company proceeding from this baseline.
The plan forms part of the company's recent major focus and research in biodiversity, as outlined in its five-year sustainability road- map. Govender indicates that the company felt that awareness around biodiversity manage- ment at AfriSam could be bolstered – this enables the company to work ahead of the curve, as these biodiversity efforts are not even legally mandated yet or feature highly on the local environmental radar at this point in time.
South Africa is considered one of the top ten CO2 emitters globally, with the global cement industry accounting for 5% of global CO2 emissions.
The main sources of carbon emissions are the fossil fuels for mobile and stationary equipment on site when mining limestone, which is a core ingredient in manufacturing cement; using fossil fuels in the calcination process; and burning fossil fuels to heat cement kilns to about 1 400 ºC.
It is, therefore, imperative that the cement industry, along with other industries, operate more sustainably, particularly amid South Africa's commitment to reducing its greenhouse-gas emissions by 34% by 2020 in response to the Paris Agreement, Govender says.
Meanwhile, she emphasises that commitment to the environment is entrenched in the ethos of AfriSam. The company established its environmental department in 1992 amid minimal regulations and, thus, at a time when environmental protection was not prioritised. This department also aligns with the company's constant drive for environmental innovation and the spearheading of environmental initiatives.
Following this, the company published its first environmental policy in 1994 – which has undergone constant revision and development since then – integrating the environment into the company's core business of cement manufacturing and aggregate production.
AfriSam has been monitoring its carbon footprint since 1990, before it was even legally required. The company's statistics indicate that, from 1990 to 2010, the company reduced its CO2 emissions per tonne of cement by 30% through several initiatives.
Green Initiatives
Govender tells Mining Weekly that, in 2000, AfriSam implemented Project Green Cement to reduce its limestone demand using extenders. This entails substituting a certain percentage of limestone with alternative materials that have cementitious properties, primarily fly ash, a waste product produced from power stations, and slag, a waste product from metallurgical processes. This is doubly beneficial, reducing the amount of limestone that needs to be mined, thereby emitting less CO2, and reducing waste from other industries that ordinarily would have ended up in landfills, Govender elucidates.
All AfriSam quarries and cement plants have an environmental programme in place, as mandated by law. The company also practises concurrent rehabilitation, mining ahead of the face while rehabilitating from behind it (whenever possible) to mitigate the impacts of mining and ultimately leaving a self-sustaining landform for future generations.
The company also conducts environmental awareness training at all its sites on a yearly basis, educating employees regarding sustainable site conduct, and encourages staff to spread this message to others. Moreover, staff are supported in conceptualising their own environmental initiatives for sites, which the company will implement if merited.
Sustainable Mining
Govender highlights AfriSam's prospective mining land in the Saldanha Vredenburg area, in the Western Cape, which is situated in a recognised ecologically sensitive area, on which the company is focusing environmental protection efforts.
AfriSam received authorisation to mine the area in July 2015, but this permission was predicated on the company committing to placing more than 150 ha of this property into conservation. This entailed foregoing the company's rights to mine on specified, high-conservation pieces of the property, with these to be declared a protected area in terms of the Protected Areas Act, thereby satisfying the requirements of both government and the community.
Govender indicates that, where the company would have been able to mine this land for the next 200 years, this stipulation has reduced this timeframe, but adds that this is par for the course for such an ecologically sensitive area and, moreover, is in line with the company's environmental ethos.
As a mitigating measure for the sheer volume of CO2 emitted when burning fossil fuels for cement kilns, AfriSam has been using alternative fuels and raw materials as a substitute for coal for many years. Different products have been trialled to ensure that suitable materials are used that are not hazardous and compromise the cement's integrity. Scrap tyres are the most favoured, as the kiln's high temperature allows for instant disintegration when added, while the steel capping inside actually strengthens the cement and is much less carbon- intensive than coal.
This measure also diverts other industries' waste from overfull landfills, which is an issue in South Africa.
"Environmental protection is in AfriSam's DNA, and the company will continue to pursue environmental initiatives well into the future," concludes Govender.