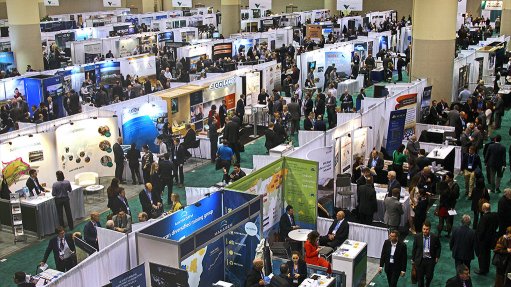 EXPANDING EXHIBITION The exhibition space at the Prospectors & Developers Association of Canada International Convention, Trade Show and Investors Exchange is expanding this year
Industry organisation the Prospectors & Developers Association of Canada (PDAC) is to hold its annual convention in Toronto, Canada, from March 3 to 6, and PDAC president Glenn Mullan says the convention must constantly improve to benefit people in the industry.

"Staying relevant is imperative to remaining the world's premier mineral exploration and mining convention. With that in mind, we have an excellent line-up for 2019," he tells Mining Weekly.
Owing to demand, two years' worth of sold-out exhibitor space and waiting lists, the event will have more space available to offer new exhibitors this year.

Further, for the first time, PDAC is offering private meeting space for exhibitors. "We are also excited to welcome back part of the visually stunning Kirwin Collection of minerals on loan from the Royal Ontario Museum," Mullan highlights. Amassed over the past 40 years by exploratory geologist Douglas Kirwin, the collection comprises minerals and ores from around the world, with a special focus on the Asia-Pacific region.

The invite-only International Mines Ministers Summit is returning for the fourth year, providing an important platform for the international mining community to discuss and work on resolving issues affecting the industry worldwide.

The Aboriginal Programme will also return and Mullan comments that it is always popular and provides the opportunity for conversations and fostering cooperative, respectful and mutually beneficial relationships between indigenous communities and the minerals industry.

The Sustainability Programme – formerly known as the Corporate Social Responsibility Event Series – will feature presentations and dialogue that examines the innovative ways in which mineral exploration and mining companies are working to improve their sustainability performance, presenting challenges and successes, as well as lessons learnt. Speakers include sustainability experts and members of industry, government and civil society.

The Capital Markets Programme, Technical Programme and Student & Early Career Programme are also returning, along with many insightful short courses, Mullan points out. There will be 13 short courses presented at this year's event.

He highlights that PDAC is excited about the Mineral Outlook Luncheon, where advisory firm Wood Mackenzie metals and mining vice chairperson Julian Kettle will discuss the possibility of metal shortages, owing to lack of investment in the mining industry.

Mining company Agnico Eagle Mines CEO Sean Boyd will speak during the Technical Programme's Commodities: Metals and Industry Outlooks session. The keynote session of the programme will be chaired by SRK Consulting practice leader James Siddorn and PwC partner James Lusby. There will be about 550 speakers and presenters at PDAC 2019.

Last year, the convention welcomed 25 606 attendees from 135 countries and PDAC hopes for a similar attendance this year. Diversified resource company Teck is the event's diamond sponsor, and the platinum sponsors are gold miner Barrick Gold, diversified miner BHP and gold production company Goldcorp.