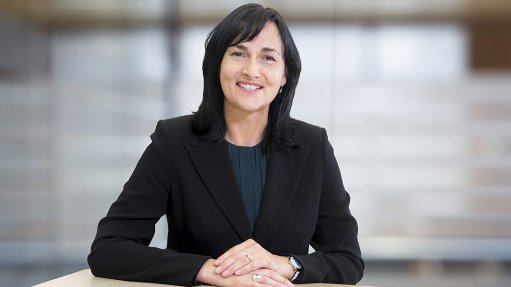 Anglo American Platinum CEO Natascha Viljoen
JOHANNESBURG (miningweekly.com) – The computing world is an opportunity area for platinum group metals (PGMs), along with food technology, alloy development, medical advance, waste control, battery and storage – and that is on top of the now much-celebrated and pervasive green hydrogen feedstock phenomenon.
JSE-listed Anglo American Platinum (Amplats) is working on progressing PGMs development in new end-use sectors that make use of the full basket of PGMs – above and beyond the hydrogen economy, where major PGMs demand is already embedded.
PGMs – platinum, palladium, rhodium, ruthenium, iridium and osmium – are well-known for their catalytic properties and promotion of chemical reaction.
In a Zoom interview with Mining Weekly, Amplats CEO Natascha Viljoen said that both platinum and palladium, and also ruthenium and iridium, have roles to play in low-loss computing. (Also watch attached Creamer Media video.)
"The computing world is an opportunity area for PGMs. We are moving towards both sustainable and more data-centric society and will need more devices or hardware with better performance and lower energy consumption," Viljoen said at this week's presentation of record 385%-higher half-year earnings of R63.3-billion and a 207% return on capital employed increase, up from 48% in the corresponding six months of last year.
It is in low-loss computing where spintronics and the likes of magnetoresistive random access memory (MRAM) come into play.
PGMs-containing computer chips are used in low-loss computing and new research on PGM alloys and materials for memory electronics devices has commenced.
"In the last 12 months, we have established collaboration to research PGM materials that may enhance or enable memory capacity," said Viljoen.
PGM-BASED FOOD TECHNOLOGY
In food technology, PGMs-based technology that prolongs the freshness of food, thereby minimising food waste, is being commercialised.
In Japan and China, the FT-eco company has been established to develop and commercialise applications for home and retail appliances.
"We've just concluded a successful e-commerce consumer market test in Japan and have identified our production site in China," said Viljoen.
Collaboration with Alloyed in the UK has created the world's first physical and digital alloy capability for PGMs.
"The potential of new alloys is allowing us to develop multiple projects in the jewellery, aerospace and industrial sectors that may open up untapped markets and other segments," said Viljoen.
The recent awarding of three patents is also taking PGMs-boosted battery and storage forward through the co-funding of the Lion Battery technologies to develop palladium- and platinum-enabled solutions for lithium batteries.
Each of these value propositions are underpinned by PGMs-enabled or PGMs-enhanced products, which should stimulate future demand for the metals that South Africa hosts overwhelmingly.
LONG-STUDIED HYDROGEN ALREADY A WINNER
In line with its strategy, Anglo Platinum continues to stimulate new markets for its products. Anglo Platinum's many years of dogged development effort in the hydrogen space has proved very fruitful and the hydrogen economy remains a burgeoning source of incremental future demand for PGMs.
"Many market commentators suggest that nations will not be able to fully decarbonise without green hydrogen playing a role," said Viljoen.
"We have seen an acceleration of commitments worldwide, even the last six months, with the number of large-scale projects announced increasing to 359, with government pledges to develop the hydrogen economy increasing to $76-billion and 69 GW of electrolyser capacity announced and more planned.
"We have long understood the potential of the hydrogen economy for PGMs demand and have been involved in market development for many years.
"We remain actively involved in advocacy of the hydrogen economy, with Anglo American being one of the first members of the Hydrogen Council. We have leading roles in industry bodies in South Africa, the UK and China," Viljoen said.
The spinout of AP Ventures, in which Amplats and the Public Investment Corporation are cornerstone investors, has enabled the venture capital firm to increase its committed funding to nearly $400-million, which has so far been invested into 17 portfolio companies at various stages of the hydrogen economy cycle.
Mining Weekly: In what new end-use sectors are PGMs making the most tangible progress?
Viljoen: Probably four areas that we can quickly touch on. The first one is certainly in the field of hydrogen and the hydrogen economy in addressing carbon neutrality going forward and that is in the supply of energy and also obviously in mobility. The other area that is very interesting for us is in the work we're doing with Lion Battery, where we're looking at the application of palladium specifically to support the cyclability of lithium air and lithium sulphur batteries. The other is in the area of low-loss computing as we are getting into an era in which more and more of us are connected as a society. Computing and low-energy computing is certainly important for us. Then the last area in which the most progress is being made in a new end-use sector is in the area of food technology. We know about the growing importance of food as global population growth increases and the advantage of preserving food for longer.
Mining Weekly: What role can PGMs play in computing?
Viljoen: People who understand this much better than I do can definitely give you a far better technical explanation. But my understanding, and how I've made sense out of it, is – as we know, we store information in zeros and ones and it's really electrons spinning in different directions and controlling how we move energy though those electrons more effectively to ensure that we spin only the electrons we want, in the direction we want. PGMs allow that process to happen far more effectively, which means that more electrons can be packed into a smaller space and that means higher-density storage and much lower energy computing.
Mining Weekly: How much longer can food last if PGMs are used to preserve it?
Viljoen: When we discussed this for the first time the question was the kind of food concerned. Was it a strawberry or a banana being spoken about or fruit or vegetables or meat. How it works is specifically in fresh fruit. As fruits ripens, they give off ethylene, and what the PGM catalysts do when you include them in fridges is basically consume that ethylene and slow down the ripening process. In that way, it makes the fruit last much longer. Strawberries are an example. It can extend their life by as much as from a day to five days, so it's really exponential.
Mining Weekly: In what way is platinum being alloyed to optimise jewellery?
Viljoen: Platinum is quite a difficult metal to work with. It's not as amenable as gold, for instance, and normally the jewellers will use some level of alloy to shape and form the jewellery. With Alloyed, which is a digital platform, it allows you to search for the characteristics that you need for the piece of jewellery and predict far easier the alloy that is more suitable, and in that way, a faster process indicates what the exact mix of metals should be.