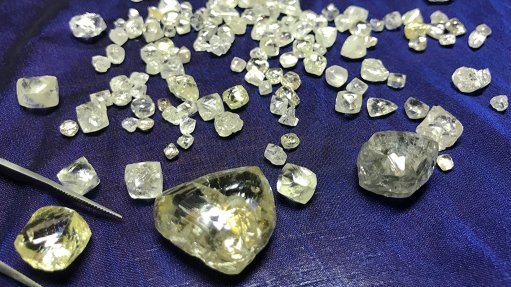 A STUNNING OPPORTUNITY The OGG, SADPO and the GSSA are offering an eleven-part virtual presentation series covering the full spectrum of diamond extraction, manufacturing and marketing
Photo by: SADPO
The online Diamond Course, held from June 20 to 30, 2022, under the auspices of the Overberg Geoscientists Group (OGG), South African Diamond Producers Organisation (SADPO) and the Geological Society of South Africa (GSSA), will cover the full range of diamond industry disciplines from exploration through to sales and marketing. Moreover, mine visits and field trips are planned for July.
Presented by a team of prominent local and international experts, the course provides participants with exposure to the latest developments in diamond exploration, geophysics, kimberlite petrology and mineralogy, diamond formation, mantle indicators and fine diamond applications.
It also covers the full ambit of primary and secondary diamond deposits, including evaluation, mining and exploitation, processing and diamond recovery from these deposits.
It is intended for fourth-year university students, diamond geology researchers, and industry professionals looking to update their knowledge.
Exploration, evaluation and mining geologist Dr John Bristow explains that the last 50 years have seen a massive shift in geological thinking and technological innovation and developments, which has affected all facets of diamond exploration, mining, processing, recovery, manufacturing, marketing and sales.
Further, synthetic gemstone diamonds have recently taken a place alongside natural gemstone diamonds and jewellery, offering branded diamond jewellery ranges.
However, despite this technology-driven progress, the diamond sector has not seen a new world-class, Tier-1 mine discovery since 1991. Existing mines have mostly transitioned to underground operations with concomitant reduction of mined product.
"The famous pink-diamond producer Argyle Diamonds closed in November 2022, and several other small operations and projects have closed. World natural rough diamond production has dropped by 30% since 2017 – from 152-million carats in 2017 to 107-million carats in 2021 – paving the way for the growth of synthetic gems or laboratory-grown diamonds to increase market share," says Bristow.
Recent US embargoes against the sale of diamonds by Russian company Alrosa, the world's largest producer of rough goods, which in previous years has produced about 30% of total production, is adding to uncertainty in the rough and polished diamond market, particularly among India-based manufacturing companies.
Indian manufacturers typically purchase, cut and polish about 95% of the world's rough diamonds, and then resell the finished product to international jewellery chains, retailers and specialist high-end outlets.
Meanwhile, in a positive move, possibly as a means of countering falling natural diamond supply, both De Beers and Rio Tinto announced they would be pursuing new exploration ventures in Angola in late-2021, and in January 2022 De Beers advertised for an in-country exploration programme manager in Botswana. It is in this context that the OGG – in conjunction with invited diamond researchers and industry experts such as SRK Canada's Herman Grutter – SADPO and the GSSA are offering an eleven-part virtual presentation series covering the full spectrum of diamond extraction, manufacturing and marketing.
Course presenters include leading local and international experts from the various diamond industry disciplines. Further, leading international market analysts Diamond Analytics' Paul Zimnisky, who specialises in the global diamond industry and related fundamentals, will present the opening keynote address.
Virtual Zoom Short Course
The course will run from June 20 to 30. The programme is as follows:
Introduction to the diamond industry
Diamonds and their origin
Diamond exploration
Kimberlites and lamproites
Mantle indicators as applied to diamond exploration
Micro/macro diamond relationships
Alluvial diamond deposits
Mining and recovery methods
Diamond valuation and project evaluation
Current and future trends
Discussion and concluding remarks
Mine and Field Trips
These trips are scheduled for July 2022, and participant numbers will be restricted and a first-come, first-serve situation will apply. Should Covid-19 challenges and lockdowns be necessitated, the dates will be adjusted accordingly.
The Gauteng and North West province trips will occur over two consecutive days including visits to:
Petra Diamonds' Cullinan mine on Wednesday, July 20, which will be hosted by Anton Wolmarans
Helam Fissure mine, in Swartruggens, in the North West province, hosted by Jim Davidson, on Thursday, July 21.
The Northern Cape trips will occur over three consecutive days. This includes visits to:
Kimberley Mine Museum & Mantle Nodule Dumps hosted by Jock Robey on Thursday, July 14
Middle Orange River alluvial operations hosted by Lyndon De Meillon on Friday, July 15
Blue Rock diamond mine hosted by Robey on Saturday, July 16.
Bristow notes that participants must make their own travel and arrangements to both Cullinan and Helam, as well as make arrangements for travel and accommodation to and in Kimberley.
"The organisers will assist with overall arrangements, recommend suitable cost-effective accommodation in Kimberley, advise on meeting points, and provide documentation for the mine and field trips. The Helam mine trip is restricted to ten people, while the other trips will accommodate up to 20 people.
For further details please contact one of the following:
John Bristow (OGG) – jwbdia@gmail.com; 00 27 82 571 3004
Tania Marshall (GSSA) – marshall.tania@gmail.com; 00 27 82 611 3388
Herman Grutter (SRK) – herman.grutter@outlook.com; 001 778 883 7422