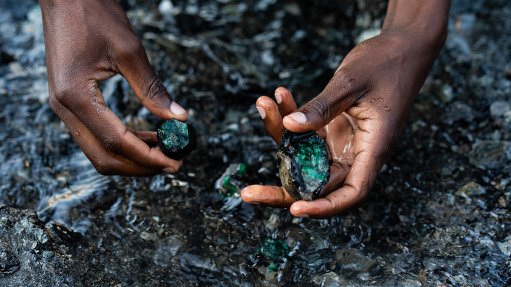 A SHINING EXAMPLE African governments must make their jurisdictions more attractive to investors
In addition to increasing socioeconomic challenges and their knock-on effects worldwide, mining entities must also contend with a looming metals deficit, says Zambia Chamber of Mines CEO and engineer Sokwani Chilembo.
"It's been well known and widely forecast, even before the escalation of the electric vehicle (EV) and green energy transitions, that global copper demand would exceed supply early this decade, and that this deficit would primarily be driven by a decline in ore grades. The bigger surprise has been the impact of the EV and energy transitions on demand for cobalt, graphite, lithium, platinum-group metals, rare-earth elements, tungsten, manganese and nickel."
Chilembo suggests that African countries can forestall deficits in all these metals by taking a leaf from Botswana, Chile and Peru's book and introducing "competitive and consistent mining fiscal policy" to drive investment and fast-track exploration and mine development.
Many African countries, in attempting to capitalise on commodity supercycles, become so preoccupied with a potential loss of their share of the revenue that they rush to raise average effective tax rates and then lower them in the downcycle to "improve" competitiveness – an approach, he says, which epitomises these countries' general short-termism. Both stability and competitiveness through cycles are key to steadily mobilising capital and maintaining growth.
He adds that the ill-advised prioritisation of unstable short-term gain is apparent when compared with Botswana, Chile and Peru's steady improvement on the Human Development Index, and the resultant reductions in inequality, all of which correlate with their introduction of attractive and, importantly, consistent mining policy.
The relatively steady upward trend in these countries following the introduction of favourable mining policies – and the subsequent improvement in life expectancy, education and gross national income – "far outweighed any perceived short-term drops in treasury inflows", says Chilembo.
"Making Africa more attractive in the current global environment is the best bet we have to ignite the largest mining exploration and development push for 70 years."
He suggests that the facilitation of these new mineral discoveries could "truly be a continent-wide event", should all jurisdictions act on a vision to take full advantage of the "once-in-lifetime technological shift".
After all, as the United Nations Environment Programme states, "Africa is home to some 30% of the world's mineral reserves, 8% of the world's natural gas and 12% of the world's oil reserves. The continent has 40% of the world's gold and up to 90% of its chromium and platinum. The largest reserves of cobalt, diamonds, platinum and uranium in the world are in Africa".
Chilembo notes that, in Zambia, the first shoots of recovery, both from the pandemic and a constrained investment environment, have started to show.
"Diversified miner First Quantum Minerals is investing $1.35-billion in the Kansanshi S3 expansion and is commissioning Africa's largest nickel mine in the next few months. Gold miner Barrick's Lumwana is looking to create a superpit to extend the mine's life to 2060 and increase production. Exploration company Moxico Resources will soon start production at its Mimbula leach facility in Chingola, while Jinchuan Group's Chibuluma mine has re-opened."
Moreover, Mabiza Resources' nickel mine has returned to steady production and Gemfields' Kagem intends to extend into the "historic" Kamakanga emerald mining area.
However, Chilembo cautions that Zambia, and the continent, despite its mineral endowment, might not fully benefit from the current supercycle because of the persistent challenges plaguing economic development.
"These remain the relatively high cost of capital and taxes, the limited amount of primary geological data and exploration activity, limited funding of government mining regulation, high nontax fees and levies, and energy tariff-escalation risk."
However, he notes that the Zambian government is already moving to mitigate these challenges by improving the fiscal regime and investment environment, in addition to "resolving its debt situation to lower country risk and afford miners and their suppliers access to investment guarantees".
Moreover, it has committed to increasing funding to the Ministry of Mines and reining in cost escalation.
Chilembo adds that mining companies can help to mitigate infrastructural constraints by supporting public–private energy and rail development.
Mining Indaba
The theme of the 2023 Investing in African Mining Indaba – to be held at the Cape Town International Convention Centre from February 6 to 9 – is Unlocking African Mining Investment: Stability, Security, and Supply.
Chilembo is the current president of the Mining Industry Association of Southern Africa and so Zambia will attend the event as part of the regional industry grouping and will take part in the Ministerial Summit.
Chilembo notes that the looming threat of a global recession is a key risk that will "obviously dampen broad demand and hike the cost of capital", but this will only "slow, not stall", growth for countries with conducive investment environments.
He states that the chamber's short-term goal is to secure an overall mining business environment that will "attract turnaround investment funds, along with a minimum of $200-million a year in exploration capital", adding that this would grow reserves at a pace that could support government's medium- to long-term goal of tripling production.
He concludes that participation in the Indaba will help secure investment in Zambia as key representatives of the chamber and government can engage financiers and mining houses.