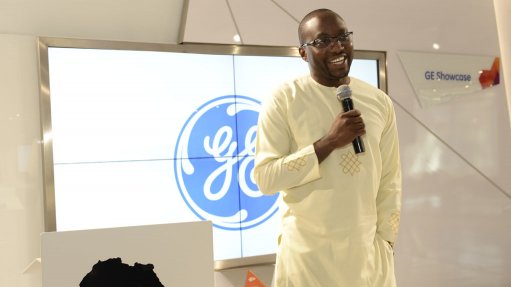 ROTI BALOGUN The competition is a proactive way of bridging the needs of industry
International digital industrial company General Electric (GE) Africa held the University Business Challenge Competition last month, putting into practice its commitment to helping boost learning and skills development through technology, and stimulating students to create energy efficient solutions.
GE Africa regional learning leader Roti Balogun says this is the first year that the competition – themed Energy efficient solutions – was held in South Africa. Ten qualifying local university teams presented their solutions on October 13 to a panel of judges.
Students were tasked with generating affordable, reliable and sustainable green energy solutions. Teams competed on a business simulation platform, and later presented their outcomes from the simulation, expanding on how they would integrate the learning back to the energy efficient solutions that they would be implementing after the competition.
He explains that the competition focused on employability and entrepreneurial skills, and how to advance these skills for students and tertiary education faculty members. It also combined creativity and innovation with practicality.
"The engineering skills you gain from university are not always enough. "There is always a mismatch between what you need in industry and what you need in academia. "The competition is a proactive way of bridging the needs of industry when it comes to entrepreneurial thinkers in the workplace being able to innovate more. "The application of knowledge is the missing part to standard training," Balogun explains.
Although many people graduate from educational institutions, there are not enough jobs available to accommodate everyone, he says, further emphasising that fostering entrepreneurial skills are essential in attempting to close South Africa's skills gap.
"From a skills perspective, we can't stop and wait for things to happen. We have to continue to invest in those skills. Students need to come up with more project ideas, as this indirectly raises awareness around green energy solutions. We need African innovation."
Balogun says skills must be built in advance, regardless of political climates, and that GE will continue to invest in skills from a training and innovation perspective.
Challenges
Balogun points to energy distribution challenges as a major concern. He maintains that uneven energy distribution is an ongoing issue, and that alternate forms of energy could potentially mitigate uneven energy distribution.
However, to embrace renewables, customers and end-users need to be convinced first, with the role of significant industry players – such as GE – to emphasise to clients the wisdom of embracing renewables.
"We need to soul search as industry players and see how we can be thought leaders that play to Africa's strengths in the energy efficiency sector," he concludes.