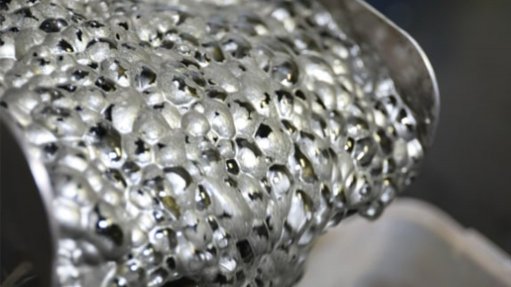 DEVELOPING TAILORED REAGENTS Axis House metallurgists conduct lab tests during reagent development, where specific parameters can be changed, and the effect investigated with the facility's test equipment
Despite the effect of the Covid-19 pandemic on gold production last year, production has increased this year, as more producers are building capacity and mining projects resume.
As a reagent supplier, Axis House is conducting testwork and plant application trials at local gold producers.
"Clients are focused on more efficient and safer reagents suites and processes, be that for gold flotation or the gold leaching process. This also drives new product development in all sectors of gold production, which can also have a positive effect on the future of the gold industry. Our goal is to partner with South African gold producers and provide reagent solutions that will ultimately benefit local operators," states Axis House sales manager Gareth Heynes.
The company has evaluated its growth prospects and product development in the local gold industry by focusing on two processing streams – gold flotation and gold leaching – in which cyanide is used as the primary reagent to extract gold.
Predicated on this is Axis House's reagent development in the past year, which has been focused on developing collectors that can effectively recover gold in the flotation process.
Heynes adds that the company has been working on replacing cyanide with low hazardous alternatives in the leaching process.
He points out that Axis House is constantly improving its tailored collectors with gold flotation.
Further, an important focus for improving collectors is to improve recovery and selectivity , as well as to reduce reagent consumption, particularly in cases when xanthates are the primary collectors.
Heynes states that the company's DGQ collectors range, particularly the DGQ-DS, has been successful in laboratory (lab) testing and full-scale application.
Requests to trial collectors, such as the DGC-228 and DGQ-246, are also increasing, as Axis House is expecting positive results.
He stresses that the main drive for testing and implementation is to find better alternatives to xanthate-based collectors, as well as to improve the consumption, selectivity and overall performance of xanthate-based collectors.
"Based on our client's requirements and ore mineralogy, reagents are modified to target the specific minerals of interest. Therefore, the reagents are improved or adapted to suit the mineralogy and reduce any negative affects the reagents might have on the downstream processes. This is especially important when considering flotation, followed by a process like bio-oxidation, which is sensitive to the type of reagents used."
Cyanide Alternatives
Heynes states that for low hazardous alternatives to cyanide in the gold leaching process, Axis House introduced reagent D20M3 to the gold industry this year.
The reagent can be implemented without any major changes to the processing circuit while maintaining the operation's current leach rates and gold recovery.
"Within Axis House's range, one of the biggest advances is the application of safer alternatives to cyanide reagents. This is one of the newest products on the market and, as a reagent supplier, a major technological advance within our scope of the gold processing sector."
Improving the health, safety and environmental aspect of the process is the major objectives when developing and improving reagents that can be used as alternatives to using cyanide, he adds.
"Building references of improved recoveries, lower consumption or safer alternatives creates growth opportunities in the gold sector. Within a specific operation, Axis House aims to improve by introducing specialised reagents, covering the entire process from flotation, solid-liquid separation and gold leaching."
The company is also focused on improving gold recovery in ores treated by copper-producing clients. While copper is the primary metal, recovering gold as a by-product is a significant factor when selecting a collector.
This gold recovery from copper ore has been a successful application, as the company has supplied its range of collectors to copper/gold flotation operations in Africa, states Heynes.
"As our client base is expanding, the need for reagents that are more tailored to the ore is increasing. "With this approach, collectors and frothers are modified and improved. This also enables Axis House to test and apply the improved reagent range on other operations."
Further, Heynes emphasises how vital Axis House's technical capabilities are in developing and applying reagents in the gold sector, with its testing the capabilities of gold ores and carrying out detailed testwork at the company's metallurgical lab, in Cape Town, or on site.
He highlights the significance of lab-scale testing, as this is where the "initial development happens, and the ability to accurately down-scale the process becomes important".
The Axis House metallurgists carry out multiple tests at the lab during the development stage of reagents. Specific parameters in the testing process can be changed and the effect of the change investigated using the facility's test equipment.
"During lab studies, reagents are developed, but it also provides us with vital information on the best way to apply it in terms of dosage, addition point and other physical and chemical parameters that may influence the performance. "Information gathered during the lab testing phase is then upscaled to the plant," he concludes.