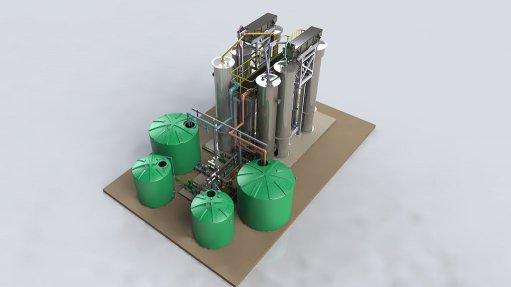 MINERALS RECLAMATION Multotec's ion-exchange system can also be used to recover valuable minerals from effluent streams at mineral processing plants
To address water contamination in the mineral processing sector, processing specialist Multotec is installing its CleanTeQ ion-exchange system, which is designed for the removal of soluble elements from process water, at operations in Oman, Iran, and soon the Democratic Republic of Congo.
The first order was placed in July and Multotec will install and commission the equipment starting this month.
Multotec Process Equipment MD Rikus Immink tells Mining Weekly that the CleanTeQ technology, which was introduced to the South African mining industry in early 2016, provides a green solution for the mining industry, which is "probably considered as one of the dirty industries that contaminate natural resources".
This technology can also recover valuable minerals, such as platinum-group metals, silver and gold, from effluent streams.
Further, Multotec is eveloping solutions for ultrafine mineral recovery. Ultrafine recovery involves spiral gravity concentration technology to recover material as small as 10 μm from chrome or iron-ore streams.
Immink says the company's first test unit for ultrafine recovery has been delivered to a chrome mine in Zimbabwe, where testwork will continue into the next year.
"We also offer dewatering cyclones that provide mines and mineral processing plants with the ability to recover water from their tailings operations with the added benefit of reducing water at tailings dumps and, therefore, reducing underground water contamination."
Meanwhile, Multotec is experimenting with radio frequency that entails equipping the ceramic liner of its dense-medium separation (DMS) cyclones with radio-frequency instrumentation that may allow for wear measuring of DMS cyclone liners.
Immink notes that Multotec considered inserting radio-frequency chips in the ceramic manufacturing process, but it is not robust enough to handle such hot temperatures.
"The challenge with using radio frequency is its sensitivity to the firing process used to manufacture the ceramic liners," he explains.
Multotec will undertake further testing to increase the robustness of other radio-frequency technologies before taking it to market.
Further, the company is doing testwork on its ceramic-lined DMS cyclones by installing wires into the tiles. This testwork entails picking up a current when the medium makes contact with the wires to determine the extent of wear at different points.
Immink says this process requires careful maintenance, as the wires can be easily damaged when taking apart cyclone components.
Multotec does on-site testwork on new technologies, prototypes or products for at least a year to ensure trust and confidence in its products.
"A high-quality mineral processing product will give you an improved yield," avers Immink, adding that there is a correlation between beneficiation yield or metallurgical efficiency and the quality of the equipment used.
Challenging Process
He points out that the problem leading to mineral processing or metallurgical inefficiencies is misplacement, which refers to valuable minerals ending up in the wrong process stream.
Process engineers often start seeing variances with mineral-beneficiation equipment on mines when equipment knowledge and process control is neglected.
"You have to adjust the density of the DMS cyclone cut to ensure that you always cut between the product and the discard. If you misplace a diamond, owing to varied cutting, it can cost you more than the equipment itself."
Therefore, Multotec emphasises the need to be well informed about the effective operation of beneficiation equipment and its maintenance by a qualified person.
"Mines have had to cut costs, owing to low commodity prices and general economic instabilities, at the cost of capital investment," Immink highlights.
During the lean times there is a lack of metallurgical experts employed by mines, therefore, Multotec offers plant optimisation services. These entail the specialised evaluation of a plant, sampling and testing of its products, enabling Multotec to determine and implement the most effective mineral processing methods or the best metallurgical efficiency.
"We provide mines with a local presence of expertise so that they can optimise the use of metallurgical specialists at their operations."
Additionally, Immink says clients are sometimes not aware of what the quality level is of their final export product, owing to a lack of sampling, because it is expensive and considered as a nonproductive process.
"However, not knowing your final product quality leads to conservatism that can increase chances of over-beneficiation of the product at lower yield."
Immink say Multotec installed a sampling plant at State-owned utility Eskom's Kendal power station, in Mpumalanga, to ensure that coal being used for power generation is of a consistent quality.
One of the challenges that minerals processing plants have to deal with, include the high cost of replacing capital equipment, the labour intensity involved in changing out heavy equipment, such as a DMS cyclone, and production downtime while staff have to comply with safety regulations when equipment is being replaced.
Immink points out that Multotec strives to be a "plug-and-play" solutions provider, offering installation, maintenance and the delivery of high-quality equipment.