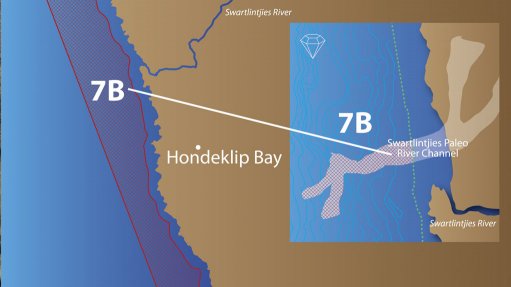 GLISTENING PROSPECTS The 7B concession is estimated to contain 65-million tons of diamondiferous gravel
Photo by: Mza Diamonds Resources
Local diamond exploration company Mza Diamonds Resources is calling for expressions of interest from marine mining companies to join the company to deploy remote marine mining equipment to extract diamonds from its 7B midwater diamond concession, off the West Coast of South Africa.
The concession runs parallel to the coast for 25 km from Rooiwal Bay, near Groen river, to Naragap Point, adjacent to the famous Koingnaas diamond deposits. The 100 km2 concession area stretches 5 km into the sea.
Mza Diamonds CEO Willem Steenkamp tells Mining Weekly that the company aims to deploy medium-sized mining vessels fitted with remote cutter heads and jet pumps to ramp up and ensure continuous diamond production at the concession.
He notes the company's recent discovery of a "major" sunken diamond river valley in the sea south of the town of Kleinzee, in the Northern Cape.
"What makes this sunken river particularly interesting to us is . . . that [diamond miner] De Beers recovered an average of 377 ct per hundred tons (cpht) of material from palaeoterraces of the same river on the coastal plains. This is a staggering figure when taking into account that land-based mines only become profitable when a recovery of about 4 cpht of material is made," states Steenkamp.
He says there is hardly any overburden in the 7B midwater marine area, which, therefore, ensures that the mineral-rich concentrates are within affordable reach. Steenkamp adds that the prime 5 km Swartlintjies section of the sunken river valley lies at relatively shallow depths of between 16 m and 50 m.
Further, he says that geologists believe that as much as 80% of South Africa's diamond reserves lie in the sea off its West Coast; millions of years ago, giant glaciers scraped billions of tons of gravel from inland deposits and deposited the diamond gravel in the rivers on the coastal plains of the country.
Independent geologist Dr Johan Hattingh, who is the author of a technical report on the 7B concession, believes that at least four major subsea rivers have been identified in the licence area. He estimates that the concession contains about
65-million tons of diamondiferous gravel.
Hatting notes that, historically, all major diamond deposits on the West Coast have been found within 6 km of river mouths, such as those of the Olifants, Orange, Groen, Holgat and Swartlintjies rivers.

Moreover, Steenkamp comments that a "comprehensive" survey has pinpointed at least four major subsea river channels –in the sea adjacent to premier coastal mines that delivered millions of carats over many years – in the 7B concession area.

"These old river channels cut across and deposited millions of tons gravel on the midwater shelf before it became submerged. Having four such major depositions on one licence area is quite unique and holds great promise," enthuses Steenkamp.
"De Beers is concentrating its marine mining activities in the deeper flat areas where its subsea crawlers can work 24/7 every day. It is reportedly recovering about 25 000 ct/m per ship," he contends.
Steenkamp remarks that the shallower and more rugged 7B midwater area contains a multitude of diamond trap sites, such as gullies, potholes, sunken river valleys and terraces. "We believe that technology has finally developed to such a point that these deposits are now mineable," he states.
Promising Discoveries
Steenkamp says Mza Diamonds recently completed a four-month small-boat survey manned by highly trained deep-sea divers. The divers not only confirmed the position of the subsea river valleys but also pinpointed "massive quantities" of gravel, particularly in the Swartlintjies area and west of Hondeklip Bay, where a network of potholes was discovered.
"These gravel-filled potholes containing boulders the size of small houses are clear indications of a massive riverine system that transported vast quantities of material. We know the stuff is there, but we still need to get it out."
He highlights that the company is focusing on accessing and mining uneven areas that contain these trap sites, as Mza Diamonds believes that this is where the highest concentration of diamonds will be found.