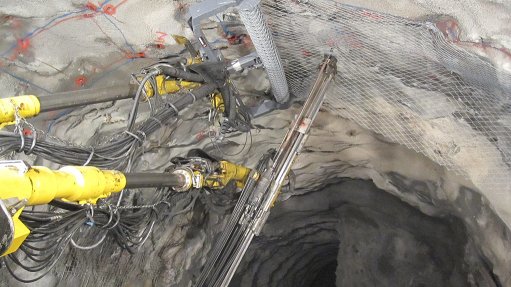 UNDERGROUND SUPPORT Geobrugg's high-tensile steel mesh is is three times stronger than mild steel and lighter than classical mild steel products
The mechanised installation of high-tensile steel mesh in deep-level mines promotes safety, as it reduces the risk of people being harmed during installation, says engineering company Geobrugg Africa protection systems GM Bart Schoevaerts.
"In a lot of mines, underground support is installed through manually or semimechanised methods, which is not ideal because people are exposed to accidents[ if they work] on an unsupported surface."
He tells Mining Weekly that, in contrast, when installing Geobrugg's underground safety mesh using the mechanised Rock Mesha handler, operators are not in the danger zone, as they sit on a multiboom underground jumbo.
"Should there be an incident, such as a rock fall, only the machine might be damaged by the rocks; therefore, even though the mine might lose equipment, the [people will be safe]."
He adds that Geobrugg's mechanised method of installing support for tunnels is desirable because, in deep-level mining, there is greater exposure to rock bursts, with conditions becoming harsher and severer the deeper the mine.
Further, Schoevaerts explains that the ever-increasing depth at which minerals have to be extracted presents a challenging environment for hard-rock underground mines, with high stresses and associated seismicity being the decisive factors contributing to the choice of an underground support regime.
He says conventional ground support systems, designed primarily for static loads, cannot always provide safe working conditions for under- ground workers in seismically active mines. Further, through mechanised installation, "one notices significant reduction in installation time, a reduction in overall installation costs, with increased labour safety".
However, Geobrugg's system is specifically developed to resist dynamic loading and allow for larger deformations.
"The support system we use can absorb higher energies as it is made of high-tensile steel, which is three times stronger than mild steel, which is used as the industry norm," he says, adding that, as the high-tensile steel mesh is also significantly lighter than classical mild steel products, it is also ideal for manual installations. He says the support system, the Minax M85/2.7, weighs only 1.1 kg/m2.
The Geobrugg safety mesh offers surface support for most underground conditions. It is made of high-tensile steel wire, with diameters of 4 mm (Tecco G80/4), 3 mm (Deltax G80/3) and 2.5 m (Minax M85/2.7), and a tensile strength of 1.77 N/mm2. The edges of the diamond-mesh are bent over and double-twisted to make the connection as strong as the mesh and prevent injuries from the sharp ends.
He says the mesh is produced in rolls, which reduces the required storage space, adding that it can be manufactured in widths of up to 3.5 m and in tailor-made lengths that correspond to the tunnel surface.
"Our high-tensile steel chain-link mesh has a proven record, in various parts of the world, of successful use in underground operations because of its high-energy absorption capacity," says Schoevaerts.
He adds that the purpose-built mechanised roll mesh handler, the Rock Mesha, is compatible with all standard multiboom underground drill rigs and is operated using the hydraulic circuit normally used for the feed arrangement.
"Although the high-energy-absorbing mesh, combined with yielding rock bolts, is a ground support system of choice in conditions where rock bursts are likely to occur, the operational upsides achieved during evaluations imply that this product can also be competitively used in less demanding ground conditions where customarily weld mesh or shotcrete is used as primary surface support," he says.
He adds that the Deltax G80/3 can be used as a perfect alternative for the time-consuming mesh and lacing, and with the Tecco G80/4 the need for shotcreting can be eliminated.
Schoevaerts says that, in addition to having a much higher "energy capacity absorption quality", Geobrugg's steel mesh also has a higher resistance to corrosion.
"The result is that you have a much safer working environment; even after 15 years of mining, the mesh will still be as good as it was on day one."
He adds that some of the clients who use Geobrugg's safety mesh include gold producer Sibanye Gold, platinum-group metals producer Aquarius Platinum, platinum miner Lonmin and gold major AngloGold Ashanti.
"The technology has been very successful since we launched it in South Africa in 2013. Our clients are happy and we do installations in underground mines on a daily basis," Schoevaerts concludes.