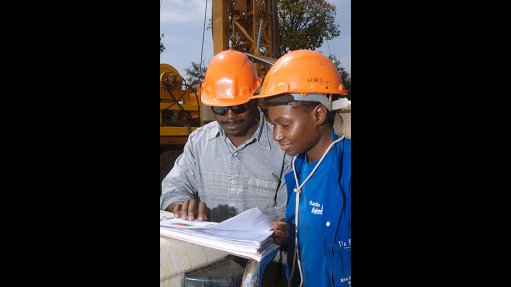 TEAM WORK Partnering with global providers of mine finance allows all project development activities to move forward
Venture capital firm and owner of the Khoemacau copper/silver project Cupric Canyon Capital has made significant progress towards the construction of what is to be a major copper and silver mine in north-west Botswana and expects first production in the first half of 2021.
Cupric and subsidiary Khoemacau Copper Mining have signed a $565-million project funding package to start development of its high-quality Khoemacau copper/silver underground mining project.
The funding includes a $275-million senior debt facility from Red Kite Mine Finance, a $265-million silver stream from RGLD Gold AG (RG AG), a wholly owned subsidiary of streaming and royalty company Royal Gold, as well as a $25-million subordinated debt facility from RG AG.
The project funding package will be used for construction of the company's 3.6-million-tonne-a-year starter project at Khoemacau, processing ore from the 91-million-tonne resource at a head grade of 2.02% copper and 21.4 g/t silver.
The direct construction cost of the starter project is $397-million and construction is expected to take about two years. First copper concentrate production is expected in the first half of 2021.
Khoemacau has been developing the Khoemacau project, a 4 040 km2 land package, over the past six years. One of the numerous deposits within the Khoemacau project, Zone 5, was initially discovered in 2012 and has since become the flagship deposit since it was acquired by the company in 2013.
In 2015, Khoemacau acquired the Boseto assets (a previously operated copper project adjacent to Zone 5) following the insolvency of that company's parent. This acquisition offered the company access to the three-million-tonne-a-year Boseto processing facility located 35 km from Zone 5 along with extensive infrastructure, and several high-grade mineral resources and licences. Since the acquisition, the Boseto assets have been incorporated into the starter project development plan.
The starter project development plan now involves the fully mechanised underground mining of sulphide ores at Zone 5 at a rate of 3.6-million tonnes a year using the upgraded Boseto processing facility for crushing, milling, flotation and production of a high-grade copper/silver concentrate.
The starter project is expected to produce a copper concentrate with an average grade of about 40% copper and high-grade silver. This results in a yearly average production of 62 000 t copper and 1.9-million ounces of silver a year over a 21-year mine life.
"Securing the project funding package by partnering with two of the industry's leading global providers of mine finance, Royal Gold and Red Kite, allows us to move forward energetically with all project development activities," says company CEO Johan Ferreira.
"This step marks the completion of a remarkable evolution of the company from discovery of Zone 5 in 2012 to full construction of a high-quality copper asset in 2019.
"Being able to commence the development of a large-scale fully mechanised mine and deliver high-quality jobs and sustainable development in the Kalahari copperbelt reflects not only the quality of the mining environment in Botswana, but also the strong support by government of foreign investment and new mine development."
The Khoemacau Copper/Silver Project
The Khoemacau copper/silver project is located in a sparsely populated region in the Kalahari Desert.
Zone 5 has 30.4-million tonnes of proven and probable ore reserves.
In addition to Zone 5, there are a further 93.5-million tonnes of high-grade resource grading 1.9% copper and 33 g/t silver across the Khoemacau project. The company plans on developing these resources in conjunction with the construction of the starter project.
Three separate but adjacent underground mines will be developed at Zone 5, each producing 1.2-million tonnes a year on average for the first five years.
The mined ore will be trucked to the Boseto processing facility, which will be refurbished and enhanced to process 3.6-million tonnes a year. Processing will be conventional sulphide flotation through three-stage crushing, ball milling and flotation, which will produce a high-quality concentrate grading about 40% copper for shipment to African and international smelters.
Power will be sourced from the Botswana Power Corporation grid through a 56-km-long overhead transmission line connection. Existing diesel generation capacity remaining from the previous Boseto operations will be used as backup power. Water will be supplied from three borefields along with mine dewatering boreholes at Zone 5.
The total development capital expenditure (capex) for the starter project is $397-million, including contingency. About $20-million of the development capex is forecast to have been spent by funding close.
Early-works construction, which include man camp upgrades and the establishment of access roads and civils infrastructure, with the boxcut contractor currently in the mobilisation stage, started at the beginning of 2019.
During 2018, the company secured five key environmental permits that support development. The company has secured surface rights to the farms covering all the areas where operations will be undertaken and has also secured rights of way for infrastructure corridors and roads.